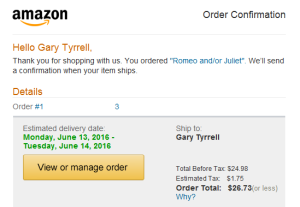 It's a day for books, my friends — the greatest invention in human history¹, the root of civilization, our hope in a world that sometimes seems bleak and utterly opposed to knowledge or even simple facts. Today, we celebrate books that are one their way books which could very well change your life.
Matt Lubchansky and Jaya Saxena together created The New Amsterdam Mystery Company, which has sadly been on hiatus while they work on other projects. Those projects would include Please Listen To Me and associate editorship of The Nib (Lubchanksy), writings in many place but especially The Toast and Hairpin, and one very special project together: their marriage².

Actually, two very special projects together, as Saxena & Lubchansky are the creators of Dad Magazine (the magazine For Dads – By Dads), the latest issue of which is out now. Even more excitingly, Dad Magazine is getting the book treatment and today reveals its cover (scroll down). Dad Magazine (the book) doesn't drop until April, but you can order it now, and didn't Dad always tell you to plan ahead?.

It is now about two and a half months since Ryan North — The Toronto Man-Mountain and Nexus of All [Web]Comic Realities North of 41°57'51" — announced the forthcoming existence of his second interactive Shakespearean adaptation, Romeo and/or Juliet. Today comes the release of the cover of said book as well as an interview with the mad story path convolutor himself, both at The Mary Sue.

The release date for R+/-J remains 7 June, and the advice to pre-order stands, as Ryan North promises a special treat to backers of his first interactive Shakespearean adaptation who pre-order the second. Looks like once June rolls around I'm going stop lugging around my copy of TBONTB to shows to get the many awesome artists inside to sign their work, I'll be lugging around my copy of R+/-J instead. Yay?

By now you probably realize that I don't recommend brand-new webcomics — especially pre-launch! — without a damn good reason. Today, I add League of Fonts by Emma T Capps to that very short list because:

Fonts
Personified as characters
Fonts, people

As mentioned previously, I loves me some fonts, even letting that love guide me on overseas travel to visit places where 500 year old punches and matricies may be observed and not quite touched.

So far we only know that Times New Roman and Futura are going to be in the cast (bonus points for rendering their employee IDs in the appropriate faces); I'm hoping for some of my favorites like Palatino, Garamond, and Hoefler Text (I'm a sucker for Old-style type design). I think we all suspect that the villain of the piece will be Comic Sans, but we'll find out together when League of Fonts launches.

What's that? You don't see how today's post is all about books? Well, what are books set in? Typefaces. Checkmate, pedants.
---
Spam of the day:
OH,GOOD BLOG.
I KNOW, RIGHT?
________________
¹ Okay, okay, maybe agriculture, fine.
² Awwwww.