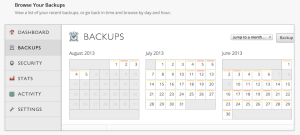 Sorry about that — the hosting facility that brings you Fleen was down from approximately 23:30 14 January (last Thursday) until 20:30 15 January (last Friday), and thus we weren't able to update on Friday. It also appears that when the server came back, Thursday's update was lost, meaning that news relating to my holy book, Abby Howard, the Cartoon Art Museum, and multiple creators whose comics are coming to film would be lost to the ages.
Except for VaultPress. Their service pings this page pretty much continuously, and when there are changes they are automatically recorded. It was the work of a moment to find the backup taken after Thursday's update and to restore it to its proper place¹. Heck, as I am writing this the restored site and the draft that I am partway through writing are being backed up in case anything goes wrong again.
Honestly, if you run a WordPress install of any kind, you really should be using VaultPress (their simplest plans are five bucks a month; I pay 'em more for a greater degree of confidence and automation). They don't pay me to say that, I just think that they're a damn good service and worth every penny they charge.
Professional terrible person Karla Pacheco (she's a lot of fun to drink with!) has a lot of irons in various fires: the most inappropriate children's book ever, naughty, naughty pirates, and a vagabond lifestyle of boats and comics. In keeping her fans (I know! crazy!) up with the latter, she posted her convention schedule for 2016 and inadvertently let us all in on a key piece of information: TopatoCon 2016 will take place 22-23 October. Seriously, she even scooped TopatoCon's own site on that one. Start making your plans for *hampton, MA in late October — the cocktail competition we had was such a hit, we're sure to do a repeat variation of some kind.
We mentioned the Penny Arcade Kickstart to fund a live-action webseries of Automata, and in what's nearly world lans speed record time for the entertainment industy², filming has gotten underway and they've shared with us costumed photos of their leads with bios.

Given a series length of five episodes each at 10 – 12 minutes, principal filming may well be done in a week or so (it probably depends on complexity of locations and set dressing as much as anything). Then the long process of post-production and effects generation starts, but I'm guessing they may have rough footage to share at PAX South later this month and possibly a finished episode or two by PAX East in the spring.

The National Cartoonists Society is soliciting nominations for its various division awards, including (for the fifth year) those in the webcomics sphere. Deadline for nomination is 7 February and in the interests of disclosure I'm part of the consulting committee again this year and will be doing my best to make sure that the best work of the past year makes it to the final ballot.

Like any institutional awards structure, the NCS division awards are not always going to go to what I personally think is the best work, and no winner is going to satisfy everybody (unless we manage to find the webcomics equivalent of Mad Max: Fury Road), but the odds are better when you participate. So if you can think of longform or shortform webcomics that did stellar work in calendar year 2015 that you think I might not have otherwise noticed, make with the comments.
For reals though, back up your shit³. Like, today.
---
Spams of the day:
Three messages, all coming from the same source (or at least, all claiming the same, likely bogus, contact address to stop being emailed, ha ha ha):
Is alcohol affecting your life? Search for rehab centers here
Senior Independent-Living May Be The Right Choice-For You
Are you in need of – treatment for an addiction
So apparently I'm in the throes of alcohol use disorder and need treatment and/or a stint in a rehab center, preferably one catering to still-active senior citizens. I can't wait to figure out what combination of click-tracking led them to that conclusion, but it's probably somehow Facebook's fault. Fucking Facebook.
_______________
¹ Okay, it took a moment to find the appropriate backup, about 15 minutes to completely restore the site to the appropriate point in time, and about 2 minutes more to fix the header image.
² Seriously, if this was done through the Hollywood studio system, midlevel executives would still be holding cocaine-and-hookers "meetings" to figure out exactly how much they could pad the production budget to cover cocaine and hookers.
³ To quote the oh-so-quotable R Stevens: I named my hard drive DAT ASS so I remember to always back it up.