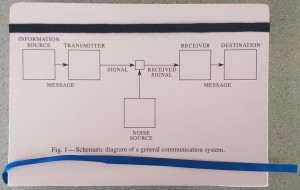 What's this package with no return address and a mess of British stamps on it?, I asked myself. One quick rip of the opening strip later, I had an answer: my personal philosophy encapsulating notebook, courtesy of Stefan Johnson's Book Block Kickstarter campaign; a bit late, but absolutely exactly what I wanted in all of its Figure 1 glory. This is enough to make me carry a sketchbook to conventions again.
And, per the letter included with the delivery, the Book Block team are gearing up to launch a commercial upload/customization service in the coming months; keep your eyes on www.bookblock.com in the near future if you want to get in on it.
I realize that January is not, traditionally speaking, an especially spooky time of year (Straubian efforts notwithstanding), but there's a nice bit of info for those of you that are interested in good, hearty scares. Namely: Abby Howard (whose The Last Halloween just pulled an eleventh-hour reversal on us and now I have no idea where the story is going, in the best possible manner) has announced a new website for her short horror projects, which makes it easy to find some really great work. Bookmark Terror Town to get your short- to mid-length startles on, which so far has features Howard teaming up with writers.

I love Howard's take on what's truly scary, but seeing her work in somebody else's voice makes it somehow even more unsettling — I've perhaps gotten used to how Howard would develop a scene and to see her pictures following a different pace and progression makes everything more a surprise. And you can purchase these comics for your very own in both digital and physical forms, so you're helping Abby make a living being Abby, which is the very best thing you can do. Check 'er out.

The Verge has a nice roundup of upcoming comics adaptations to film and/or TV, as compiled by one of my favorite former writers at The AV Club, Tasha Robinson. Of particular interest to those of us that dig the web-slash-indy comics scene: Kazu Kibuishi's Amulet¹, Ursula Vernon's Castle Hangnail², Scott McCloud's The Sculptor³, Jeff Smith's RASL4, and the omnipresent Noelle Stevenson's Nimona5.
Continuing their involvement with the community while awaiting a new home, San Francisco's Cartoon Art Museum is about to have the first of a traveling series of events to be held on the third Thursday of the month, hosted each time at a different Bay Area museum. The inaugural Traveling Third Thursday will be next week, 21 January, at the Museum of the African Diaspora in Yerba Buena.

The program runs from 5:00pm to 8:00pm, and is free and open to the public. This first event will feature Ajuan Mance, CM Campbell, and Myisha Haynes; those attending can pick up a wristband at MoAD good for all-night happy hours at area bars and restaurants. For info on events in the coming months, visit thirdthursdaysf.wordpress.com.
---
Spam of the day:
It will flop out of his pants and into you
Oooo, floppy. That's not half-hearted and mediocre at all!
_______________
¹ With book 7 getting ready to release, this one's got franchise written all over it.
² From her kids-lit career as opposed to her webcomics career, but man it would be great to get a Digger adaptation.
³ That's gonna take an SFX budget and a half.
4 I love RASL but where the heck is our BONE movie Hollywood do you hate making money or something.
5 About which enough good can never be said.