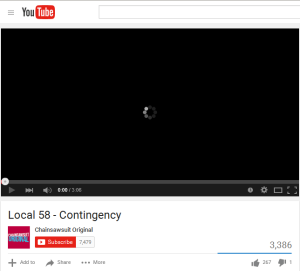 Ten ninjas, even. Through a combination of patience, taking names, insisting politely on being referred to supervisors, patience, refusing to accept a disconnect or promise of a call back, and patience, I have penetrated to the fabled fourth tier of Verizon customer support¹ and am in the channel to talk to somebody at the policy level.²
But my DSL is still borked. Since Sunday afternoon (when I was told things would be fixed in 24-48 hours; we're now at 72 and counting) I've been capped at approximately 2585kbps, and for periods of time I'm down to actual, literal double digit numbers of "k". The only thing missing from this late-80s early-90s experience is the shrieking modem handshake sound³. Oh, and the original problem, the one that keeps mutating into worse problems, is still there. Fun!
So I'm not real up on webcomics at the moment. Please take some time to enjoy this latest Channel 58 spookathon from Kris Straub, which looked very spooky and creepy except everything is buffering and that is the absolute destroyer of mood and suspense. But it's Straub, so it's creepy, I can tell you that on faith alone.
---
Spam of the day:
Travel in Style! Amazing-Priced Private-Jet Flights.
Maybe if I win the Powerball tonight (not that I've bought a ticket or anything).
______________
¹ Which is actually a contract shop in the Philippines.
² And if that doesn't work, I have tracked down the Verizon exec in charge of consumer business to a public social media account.
³ Kids, ask your parents, or click here.