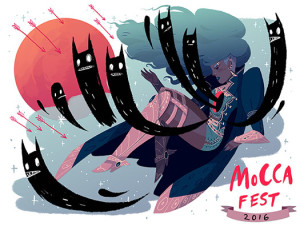 Rassin-frassin Verizon throttling me down to 2585 kbps and now they've got me down to friggin' dial-up speed¹. And on top of that I made a major mistake in logic in yesterday's post so be sure to click back and read the correction. Is there any good news today?
Actually, yes. Today is the day that we acknowledge the birth and continued existence of the very sexy R Stevens Three. Long may he continue to consume oxygen, coffee, and the envy of weak mortals that require sleep. Stevens, of course, is ever-changing, ever-adaptable, and ever-present wherever webcomics are known, and thus will be figuring out new guerrilla marketing strategies for viral merch after the rest of us are food for worms. Let us praise him with great praise, may his deeds never be forgotten while the thrones of the Valar endure!²
Speaking of good news, I finally noticed the back cover of Invader Zim issue #6 — written and drawn by KC Green and available at fine comic shops near you since last Wednesday — wherein I learn that Green's Graveyard Quest (the last long story arc from the now-finished Gunshow) is fixin' to be published by Oni Press. I'd known that, I'd even written about it, but I'd completely forgotten it. Thank you, house ad on the back of Invader Zim #6, for letting me know we're a mere eight weeks or so away from the Graveyard Quest print collection!
And speaking of webcomickers and work that will appear in the spring, news came today that MoCCA Fest (the 14th iteration of same) will feature a show poster by none other than Noelle Stevenson, and boy is it purty to look at. As a reminder, MoCCA Fest will be in its second new home in two years (owing to last year's space getting snagged for condos, screw you runaway NYC residential real estate market), the Metropolitan West event space, at about 12th Ave (way far west) and 46th. Panels will take place at the Ink48 hotel at 10th & 48th.
---
Spam of the day:
What would happen to your family if you died today gary.tyrrell?
I'm guessing a massive party with hookers and blackjack. Why? You got a good supply of either?
_______________
¹ Seriously, I'm metering out at 28 to 40 kbps right now.
² I seem to be channeling Aaron Diaz, the Latin Art-Throb.