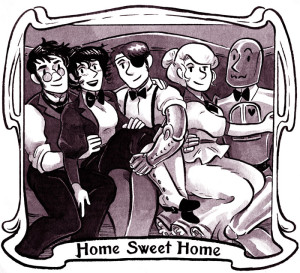 There were a few other things (some of which got displaced by yesterday's dumbassery) so let's talk about them, yes?
Jess Fink has finished — for the second time, no less — the ongoing story of Chester 5000 and the people who built him, love him, and love each other. It started off as straight Victorian robo-erotica (that old saw) way the heck back in 2008 but quickly became something more. It wasn't just about heaving bosoms sprung free of corsets and a startling array of gadgets put to increasingly hot use; it was about neglect and jealousy and absorption and fury and reconciliation and forgiveness — it was about love.

And then in 2011, Fink went back and told both what came before and what's happened since the original run of Chester; subtitled Isabelle and George, it dealt with the characters in even greater depth, added a dash of adventure and vengeance, and gave us a better idea of who these people (Chester himself appears less and less as the story goes along) really are. It's full of heart, completely lacking in dialogue, and immediately engrossing. Not to mention hotter than hell. Thanks for letting us ride along for the last 300 or so pages, Jess. Here's hoping that we get a print collection of Isabelle and George to go alongside the first Chester collection.

We mentioned not too long ago the Voltron-like collaboration of KC Green and Shmorky to make some animated bumpers for [adult swim]. Via Shmorky, we now have a collection of GIF clips from the other bumpers (ten in all), which are conveniently collected for your viewing pleasure at NerdSpan
From the Big Damn Numbers department, today is as good as day as any to declare an end to Child's Play 2015; per the CP site (which hasn't changed for the past couple of days), the lifetime fundraising total for the campaign sits at a little north of forty million damn dollars. Taking into account data from previous years, the history of Child's Play looks like:


2003: $250,000
2004: $310,000
2005: $605,000
2006: $1,024,000
2007: $1,300,000
2008: $1,434,377
2009: $1,780,870
2010: $2,294,317
2011: $3,512,345
2012: $5,085,761
2013: $7,600,000
2014: $8,430,000
2015: $6,438,053
Total as of 7 January 2016, the arbitrary end of CPXIII: $40,064,723

So, in case you were wondering what it looks like when Child's Play doesn't raise more than the prior year, it looks like they still raised almost six and a half million. If that counts as failure, we could all use some more failure in our lives and endeavours.

New show alert: Pat Race, the never-still creative force behind Alaska Robotics, has with some partners brought a bunch of indy/web comics types up to Juneau, Alaska for talks, cultural events, and meet & greets; word on the street is that the creators have had a fabulous time, and the denizens of America's least-accessible capital city have enjoyed 'em even more. So how to top a record like that? With a mini-con, naturally:


I'm very happy to announce Alaska Robotics Mini-Con, a festival and artist camp taking place right here in Juneau from April 22-26th.

Aaron, Lou and I have been hosting guest artists for several years through our work at the Alaska Robotics Gallery and JUMP Society as well as through partnerships with other non-profit organizations like the Friends of the Juneau Public Libraries. We've also spent many years attending and exhibiting at comic conventions and arts festivals. Encouraged by those wonderful experiences, we decided it was time for us to host our own tiny comic convention and artist getaway.

I hesitate to even use the phrase "comic convention" when describing the event but those who have attended such things know that the term has grown to include a much more broad collection of pop and contemporary arts, games, music and more. We're planning to embrace the spirit of those outside conventions but provide a far more down-to-earth, Southeast Alaska experience.

The draft schedule calls for a one-day public event on Saturday, 23 April, followed by a two day artists camping retreat with a limited number of attendee slots — applications will open on 18 January. Look for a roster of guests in the near term but for now, if this sounds like fun, I'd say start looking into transport to Juneau before knowing the lineup; the on-faith, camping-centric thing works for MaxFunCon, and it ought to work as well for ARMCon. Given the talent that Race has attracted to Juneau in the past — Kate Beaton, Vera Brosgol, Dylan Meconis & Katie Lane — I'd bet on there being some killer guests hanging 'round the campfire under the northern lights.
---
Spam of the day:
Reverse your Blood Pressure in only 7 Days
If I reverse my blood pressure, doesn't that make my entire cardiovascular system collapse? That doesn't sound good. Then again, this particular bit of sparkling medical science (featuring the obligatory one weird food) came from an actual email address that I swear I am not making up: Dr. Dave <cretin @[redacted].date>. That's just beautiful.