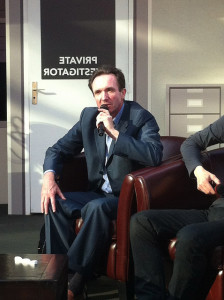 Hey, Franck? Franck Bondeux? I know that you think that women just haven't ever made comics, and that your complete dismissal of considering even one woman for inclusion on the list of nominees for the Grand Prix d'Angoulême is therefore just logical¹, but let me help you out a little.
On the very same day that you decide there's simply no notable women making comics for a lifetime, the cover of Ghosts, Raina Telgemeier's next book — not due for nine months! — was released along with a brief excerpt. It wasn't released to the comics press, it was released to Entertainment friggin' Weekly because she's that ingrained in the popular culture. But, you know, women haven't made careers of comics.
Or maybe we could look at today's announcement of Hope Larson's upcoming series, Goldie Vance, a collaboration with Brittney Williams. That one ran in the LA Times, the paper of record of the popular entertainment capital of the world … but you can't think of any women that have made contributions to comics.
Franck? I hate to say this, but you are not very good at your job. I'll leave it to others to provide the extensive lists of names that support this argument (and seriously, Rumiko Takahashi is gonna surpass Tezuka's lifetime page count before long), as there are so damn many of them running around today.
Just — just stop doubling down on the stupid, okay? Withdraw the award for 2016, let some other person start transitioning into your position, and they can do better next year. Because honestly, if you give out the Grand Prix this year, you're gonna have to mark it with an asterisk that notes the severe dumbassery that surrounded this entire process.
---
Spams of the day:
Find Divorce lawyers here
Is there something that you know that I don't?
Your name nominated to list of distinguished women of achievement
Seriously, is there something that you know that I don't?
_______________
¹ In the most fedora-topped sense of the word.