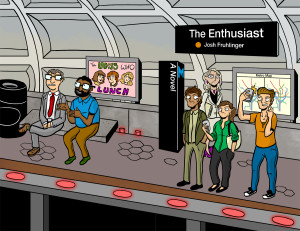 One may recall (if one is so inclined) that about two weeks ago we at Fleen reviewed The Enthusiast by Josh Fruhlinger¹. I'm happy to report that the book launch party took place two nights ago in LA to apparently great success², and that fulfillment via the magical pixies at Make That Thing appears to be well apace.
That means you get to buy it now. Fruhlinger has a dedicated page at his Tumblr for the book with the full range of samples (chapter 1 at Medium; a recording of Fruhlinger reading chapter 3) and a link to Gumroad for those that like e-books. For those that hate trees and want to see them dead³, you can get a copy inscribed on mashed and reconstituted tree-flesh at TopatoCo, in either paperback or hardcover.
It's a cruel twist of fate that the TopatoCo sales didn't go up until deep into the shipping deadlines period, but what ya gonna do? What ya gonna do is order up a book, then get Josh Fruhlinger to sign that bad boy next time you're in the same place as him, that's what.
And yes, we're a bit light on news today, but I suspect that will be the case for the next two weeks or so. Heck, you'll probably be too busy to read it anyway, so don't feel bad if you just want to catch up on January fourth.
---
Spam of the day:
Victoria's Secret Christ.
I am having a hard time parsing those words. Is that something like Buddy Christ only with fewer stigmata and more push-ups? Anything less disturbing in the spam filters?
Pet cats Flaming to be able to "Crazy Train" simply by Ozzy Osbourne Could be the Simply Catharsis You may need Nowadays. And so, devoid of additionally ado, in this article it truly is: 35 moments connected with cats and kittens flaming to help "Crazy Train" by means of Ozzy Osbourne!
That would be no, then.
_______________
¹ Spoiler alert: we liked it.
² At least, no reports have been received of underage guests drowning in their own vomit. The rules for success are different in LA.
³ I might be better inclined towards trees if they'd stop having sex in my respiratory passages, causing sinus headaches and misery and friggin' vertigo.