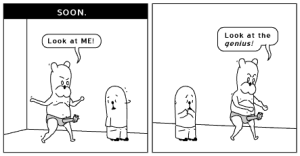 I was completely ready to hit the ground running after Thanksgiving weekend (it was very nice, thanks for asking — much pie was had) and jump back into the ol' blogging game. The work travel I engaged in yesterday (Busiest travel day of the year? Check! Busiest airport in the world? Check!) was surprisingly easy, and everything was cruising along.
Guess who forgot to take the laptop's power cord with him from the hotel this morning, necessitating a sudden midday errand and eating up (ha, ha) all the free time at lunch. Go on, guess. So you're spared a couple hundred extra words as I have to be brief about things today.
Item! Randall Munroe's Thing Explainer dropped last Tuesday (I have yet to pick up a copy), and when The Guardian asked him to do a piece for their weekend section in the form of a conversation with somebody interesting, Munroe chose the only former NASA employee more famous than he is: Chris Hadfield — astronaut, ISS commander, musician, popularizer of all things spacey, and moustache-haver of legendary renown. Turns out (unsurprisingly) that they are mutual fans of each others work, and their conversation is a delight¹. Go read it.
Item! Kate Beaton — as previously noted — is moving back to the Maritimes of Canada, and to help finance the move she's holding a sale event. Next Thursday, 10 December, from 6:00pm to 9:00pm, you can get copies of her books (including a couple of French and Spanish editions). Get a copy of Hark! A Vagrant, Step Aside, Pops, or The Princess and the Pony signed to your favorite person for holiday gifting. And if your favorite person is you, that's cool — gotta love yourself before you can love anybody else the way they deserve to be loved. The fun (and commerce) will take place at Beaton's studio in the Kensington Market of Toronto — 156 Augusta Ave, to be precise.
Item! A new big round has been achieved over at the Chris Yates Baffler! foundry as puzzle #3700 rolls off the bespoke, artisanal assembly line, along with a series of other lovingly-crafted handmade wooden jigsaw puzzles. Those interested in maintaining some sort of state of grace when you shuffle off this mortal coil should be aware of the fact that Baffler! #3700 has been assembled by self-proclaimed horrible person Karla Pacheco, and her particular evil is on every piece. Every one. I know that for at least three of you, that's a selling point.
---
Spam of the day:
Cremation Vs Burial – Learn-More
Geeze, what's with assuming I'm old and about to die? Yes, my birthday was the other day, but don't you think this is a bit excessive? What else you got?
Russian–Dating Sites, Find The Man You Have Been Looking For
Midlife crisis-y, and I'm not gay. Anything else?
Why Kathy Ireland looks so young….
Excellent genes, good personal habits, and the stolen lifeforce of every teenage dude when I was 16? But how about we give Ms Ireland props for parlaying a modeling career (and a squeaky-voiced acting career that landed her one headlining role on MST3K) into a business empire?
_______________
¹ The conversation is less about space, and more about geography and the notion of deep time.