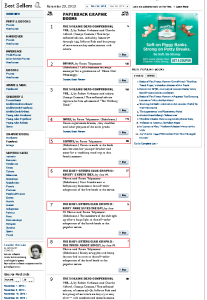 Since … call it September first of last year … Raina Telgemeier has gone from having two books on the New York Times Best Seller List (graphic novels, paperback) — namely Smile and Sisters — to three (as Drama returned), then four (the first Baby Sitters Club color re-release), five (second BSC), then back to four for a bit.

Screw that, she's not got a supermajority of the list with six books on the list now that there's a third BSC re-release with one more book to go. You thought I was kidding when I suggested Telgemeier could have as many as eight books on the list? I wasn't. All hail.

In fact, Raina's triumph is almost enough to make up for the fact that Noelle Stevenson somehow was not win the National Book Award (YA category) for Nimona t'other night. Nimona was only the fourth graphic novel to be so nominated (two of the others were by Gene Luen Yang, the remaining book by David Small), so it's honestly not a line of crap to say it was an honor just to make the list of finalists. I still think that I'M A SHARK AAAAHH would be the best acceptance speech ever.

Thing is, Nimona is essentially a first book; it is entirely in the realm of plausibility to say that Stevenson will likely be back on the finalists list and going up to the podium with her thank-yous some year down the line.

For anybody that wants to understand intellectual property better — because they have some, or want to be sure that they're using somebody else's properly — there's a very good long read on the topic over at Medium by Will Frank. Frank is a lawyer specializing in IP law, and is the sort of person that hangs out on social media with author/artist types, mostly as an excuse to make terrible, terrible puns¹. Seriously, never allow Will Frank and Brad Guigar to meet in person unless you're trying to bring about The Punularity.

Questionable use of modern communications aside, Frank knows his stuff and knows how to explain it. Take half an hour and really read what he's got to say. I was going to quote a particularly good bit here (Fair Use!), but I can't find a single bit that's particularly better than the rest because the entire thing is damn good. Go. Read. Learn.
---
Spam of the day:
See how she lost 17lbs with this Dr. Oz Method
Dr Oz is a serial promoter of charlatans and pseudoscience. Pass.
_______________
¹ A significant fraction of his twitterfeed consists of people helplessly sending him the same two-word message: Will, no. Hasn't worked yet.