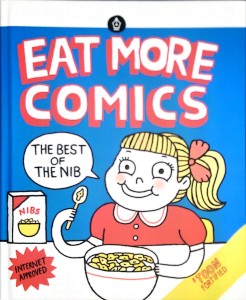 Lots of stuff going on today. What shall we go to first?
Thought Bubble is one of those comics festivals that I really need to get to some day; events have been happening around Leeds for the week, and the creators-meet-fans part happens this weekend. Guests include Kate Beaton (who, according to the Twitter machine, is presently hanging about historical Viking sites, and may never leave them), Noelle Stevenson, John Allison (possessor of the greatest show banner of all time; unobstructed view of the image here), Gemma Correll, Darryl Cunningham, Nicholas Gurewitch, and Kate Leth.

Exhibitors are listed in a fashion I've not seen before: by physical location (TB splits its exhibitors up across several venues), and then by a small image representative of a creator's work, by property name (not all of which are spelled out). Thus, one may see that the New Dock Hall has an image for Gunnerkrigg Court (captioned, in case you didn't recognize Coyote), and one may presume Tom Siddell will be there (along with Phillipa Rice and Retrofit Comics).

This method has a lot of browsability — rather than look for names one is familiar with, you look for art that appeals and then figure out who it may be that creates it. It's a little less helpful if the display image is atypical for a creator's work, or if you want to quickly determine who will be there, but for promoting serendipity, it's pretty great. But it means that I have a harder time recommending specific creators, so maybe next year TB could also provide the traditional alphabetical list? In any event, the creators to be found at the Royal Armouries Hall include Monica Gallagher, Isabel Melançon & Megan Lavey-Heaton; over at the TB Marquee you'll find Emma Vieceli and Elaine Will.

Two final thoughts: One, there are many more creators in each of those venues; two, I find it interesting that having to click on art samples that appealed and knowing nothing of the creators until I did, I appear to have discovered almost exclusively the work of women. Dudes, you got to up your game.

Speaking of Gemma Correll, I now have in my hands the very handsome Eat More Comics, with cover by Correll. I expect that I'm going to love about 80% of what's inside, loathe about 7%, and like the remainder well enough. That's actually what I thought was the chief strength of The Nib — editor Matt Bors didn't seek to have just one point of view. By casting his net wide, I found stuff I never would have otherwise, including stuff I found horrible. It was an anechoic chamber for editorial opinion.
---
Spam of the day:
F3CkBuddyAlert my username is Volup2us Kisees :)
I'm not sure what kisees means, but I think it costs and extra fifty.