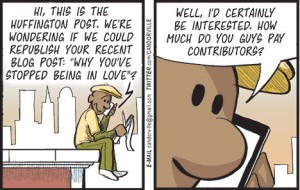 This is going to be brief, because it stands alone nicely. Mark V dropped me an email over the weekend to make sure I saw a blogpost from Darrin Bell of Candorville¹ on the topic of working for exposure. Let us remind ourselves momentarily of the Stevens Rule: People die of exposure², and then enjoy Bell's decision to tell the Huffington Post to go pound sand:
I've been "Huffed" too. Five years ago, I noticed they'd written an article transcribing a Candorville strip. They repeated it word for word, and described the action. I wrote to the author and asked why they didn't just pay to run the cartoon itself, or at the very least link to the cartoon on my website (not that that would've been a good substitute for payment, but at least it wouldn't have been a kick in the slap in the face). I sent them the contact info for my syndicate. Instead of licensing it, they simply –- immediately –- deleted the article.
But lots of people find themselves in that position, sadly; what made Bell's post worthwhile was the story of how he learned to never work for free, because of an object lesson he received from his godmother at the age of thirteen. I'm not going to copy it here — follow the link above and read the entire thing, it's not long — but I wanted you to see it because it can never be said too often: your creative work has value. Honestly, we ought to make that lesson a little more compact, but for some reason those that don't value your work get pissy when you tell them Fuck you, pay me.
---
Gotta clean out the spam filters, they're piling up. Time for the Spam of the day lightning round!
Hey, Missed e-mails phenomenally
Liar.
©GOOGLE E-MAIL LOTTERY PROMOTION INETRNATIONAL LOTTERY SECTION (E) SPAIN 2015. Attn: Winner
Enormous liar.
Chat with 20000 Russian and Ukrainian Beauties
While your stock photos are enticing, I don't believe you.
55+ And Looking For An Apartment in Your Area? Click here!
I am not a senior citizen.
Your Account Has Been Limited PayPal ID PP-658-119-347
I don't have a PayPal account.
Browse Profiles of Local Jewish Singles at JDate
I'm married. Also not Jewish, unless selling my soul to Rosenberg includes a retroactive transitive bar mitzvah.
_______________
¹ Those of you who've seen STRIPPED know that he gets a lot of screen time, because he's got a lot of smart, interesting things to say. The hivemind made up of Fred Schroeder and Los Angeles resident Dave Kellett chose well in making him one of the central voices in the film.
² And its corollary: when the work has already been run by somebody that assumed you'd be fine with exposure, the proper response is I don't care that you took it down, you ran it already and that costs money; my invoice is on its way.