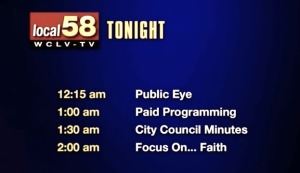 For those with lesser tolerances for the spooky stuff, things become less scarifying as you read down.
Kris Straub is, as I write this, somewhere over the Pacific Ocean, headed towards Melbourne and the about-to-occur PAX iteration therein. He's also just left behind what I an assume is the leading edge of entirely deserved praise for the best contribution to the spirit of the spooky season I've seen this year, in the form of a few wobbly images, a couple dozen lines of text, and some deeply unsettling ambient sounds.

The overnight crew at Channel 58 is not having a good night; something odd is going on, it may well be affecting the entire world and we see only the most local interpretation of events that may be beyond rational comprehension. The … the changes happen in front of us, as two entirely distinct interpretations of what it means to be safe and whole compete for the attention of a vanishingly small audience; those who are asleep are either safe or beyond help, and none of us knows which.

Straub's a master of showing no more than is absolutely necessary to get across his message, and this particular nightmare says/shows far less than it could, to terrific — I use that word in its most precise sense — effect. The questions that flood us over the course of a few minutes are more frightening than anything we could have been told/shown; Straub's made our own imaginations an active co-conspirator in the scares.

Local58.info — both address and, presumably, title — is the most disturbing thing I've seen in the past three years not drawn by Emily Carroll, and a perfect tonal match for her work. It's exactly what this Halloween season — what every Halloween season — needs to achieve maximum creepitude. Bravo.

For those not yet sufficiently creeped out, may I point you towards a new project? Adam Tierney (words) and Matthieu Cousin (pictures) have a Kickstarter up for a clever book that you can share with young 'uns that enjoy the spine-shiver of a good, safe scare. Specifically, they're putting together an A-to-Z book of 26 one-page illustrations and 26 one-page stories dealing with 26 phobias.

Afraid of Everything calls to mind an old Peanuts punchline , and you can get a good feel for just how wide-ranging those fears can be by checking out a free 10 page/5 fear preview. The phobic panopticon has cleared a bit more than 50% in its first five days, and is well on track to clear its (exceedingly modest) US$6000 goal in the four weeks remaining. Check 'er out.

Ryan Estrada's Broken Telephone has been mentioned on this page previously, and as the six-interwoven-stories-with-eighteen-creative-teams epic approaches the 2/3s point of its yearlong run, it's been catching more attention. Today, for instance, it's the lead comic in The AV Club's weekly comic roundup, in the company of the likes of the latest :01 Books entry and Usagi freakin' Yojimbo. If you haven't been reading Broken Telephone, you should be, and now it's not just me that's telling you that.
---
Spam of the day:
Hey! New message, please read.
El software de antivirus Avast ha analizado este correo electrónico en busca de virus.
Oh! Well, if you tell me that an antivirus program has scanned your spam email and the link you're sending is http://[redacted].com/safe, then of course it must be fine for me to click through!