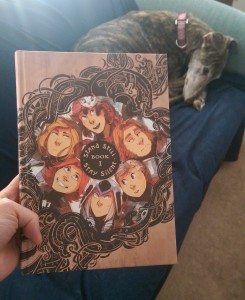 I tried to get the title to have four instances of S-words, but couldn't quite swing it. Sorry.
On Saturday at NYCC I endeavoured to keep track of cosplay, and quickly became overwhelmed. For example, here is the list of cosplayers I saw before I ever hit street level in New York Penn Station:

Harleys Quinn × 4
Joker × 1
Minions × 2
Gender Swapped Dread Pirate Roberts × 1
Semi-sexy Totoro × 1
Spider-Man × 1
Let Himself Go A Bit Darth Vader × 1
Sixth Doctor × 1; the coat was an eyesore and dude even had the hair, so respect

Heck, I saw one of those Harleys¹ before I left my house, as she was parking her car curbside to take advantage of the nearby NJ Transit station to New York. I warned her that the parking meter in question was disallowed for the day due to a street fair in town and that she absolutely would get towed, and she gave me the raised Starbucks cup salute by way of thanks before finding another parking spot. I think I saw her on the platform half an hour later waiting for the train to pull up.

Discussing this with Stacy King (while waiting for husband Jim Zub to return to his AA table after a panel), we noted the basic impossibility of trying to keep up a Harley Count for the day, unless one were to narrow the requirements. So I kept a list and can definitely say that I saw five Gender Swapped Harleys Quinn by the end of the day. Also one cluster of Miyazaki heroines (Kiki, Sophie, Sen, San, and Sheeta), Sikh Captain America, a really elaborately good Alexandrite (complete with arms and lower mouth), various Ricks², no Mortys, and a surprising number of Belcher family groups³.

When I got home on Saturday, there was a parcel waiting for me, postmarked Finland. In case you were wondering if Minna Sundberg let that NCS award go to her head and decided to half-ass the print version of Stand Still, Stay Silent Book 1 the answer is a definitive No. Wrapped with care and delivered across continents, the book arrived in pristine condition and is absolutely gorgeous.

The effort of packing and shipping so many books by herself (she's been doing 200/week) has started to wear a bit on Sundberg, as have computer troubles, so if you haven't been reading her comic, consider this a time to start. Also, check out her store if you didn't get in on the pre-order for the book; presumably excess copies will go there at some point, but I don't think there's a huge overrun on the printing and you may have to scramble to get your hands on one. It's well worth the future cost & effort, though — the comics were always great, but seeing them pop on the page makes them even more so.

Okay, so I don't get wrestling. I just don't. But people I know, and whose work I enjoy the crap out of do, and they are bringing their love of sports entertainment to print form:


MUSCLE TEMPLE is a group of professional comic artists and cartoonists mostly living and working in Los Angeles. Together we are going to publish a 60ish page, two-color, soft cover comic featuring funny and weird short comics and goofy illustrations about our love and passion… PRO WRESTLING! Yes! Check out some of the weird stuff we've made on our Tumblr!

That's the inimitable Frank Gibson in the intro to the project video, a man whose love of wrestling possibly surpasses my love for anything on the planet. It's a love that survives traumatic injury, at least:

I went to an introductory training camp for professional wrestling when I was an overweight 15 year old, with dreams of jumping off ladders … and I busted both my knees. Now I'm a slightly less overweight 31 year old living in Los Angeles, writing comics and cartoons with my partner of 10 years … and I still love wrestling.

Muscle Temple # 1 is funding for another 27 days, and is approaching 10% of goal about 18 hours in. If you ever cheered at sight of grown men in tights acting like 9 year olds emulating a previous generation of grown men in tights, I suspect that you will want to get in on this.
---
Spam of the day:
Gtyrrell we add new photo to your account
Funny, I think I would have remembered signing up for an account at traininghott.com.
_______________
¹ Traditional BTAS leotard Harley, along with a Fake Geek Dude in a Bazinga! t-shirt. The others were two Victorian bustle-skirted Harleys, and one belly-baring-bodiced Juagglo-style Harley.
² The one with the best look totally screwed up his costume by apologizing ever time he bumped into somebody instead of belching and complaining about the brain-dead idiots he was surrounded with.
³ None of whom had a Gene. Poor Gene.