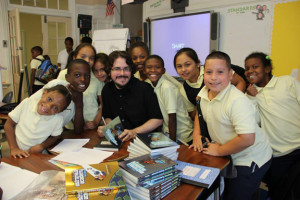 Take that as you will. In light of the need to get to said airport, today will be brief, but worth your while. We've got Dave Roman on deck, in and around his multiple NYCC appearances this weekend, has scored an interview with The AV Club that starts off with a line I wish I'd written myself:
Over the past dozen years, Dave Roman has been akin to the patron saint of all-ages comics.
There are other candidates for such an honor, but it's hard to argue that Roman has, in addition to creating many great all-ages works, has uniquely been at the center of enabling others to do the same (particularly through his editorship of the late Nickelodeon Magazine). It probably also doesn't hurt that Roman and Raina Telgemeier¹ have, between them, the best possible spouses/sounding boards/early readers of all-ages comic work imaginable. And he's funny off the top of his head. Asked how reading Astronaut Academy might impress a potential job recruiter, Roman answered:
Pop culture is ultimately the commerce of the future. It's just going to be Simpsons references and quotes from anime from the '80s. The more you can digest in a very succinct, compressed package, which Astronaut Academy is, the better fluent you'll be in that pop culture commerce of the future. It's like bitcoin except a lot more fun.
Read the whole thing, and if you're in New York this weekend, check out his panels and signings and tell him Gary said hi.
---
Spam of the day:
Dammit, I had a good one about winning the Netherlands national lottery in Dutch and I accidentally deleted it. Dang.
______________
¹ Who, shockingly, claims only four of ten slots on the latest New York Times Best Seller List; they add up to a total of 346 weeks worth of best sales, though, so that's all right.