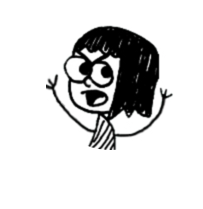 And we'll get to those things, but before we talk about the other items — before you're allowed to scroll down, and no cheating because I'll know — all dudes¹ are required to follow this link and read what's there. No commenting on this topic is allowed, dudes; if you feel an overwhelming compulsion to say something, let it be some variation on Thank you, Julia Wertz, I think I understand better now. Because goddammit, there is way too much garbage person behavior going around and we all need to do better.
NB: Wertz's site has been getting hammered, so if you can't get through, try Tumblr.
---
Spam of the day:
Get Bigger Breasts without Surgery! $15 Off
Well done, spammers, determining that I was well and truly sick of offers to buy boner pills. However, I don't really think I need bigger, firmer breasts, with or without surgery, so … yeah.
_______________
¹ Sadly, there is no need for ladies to do so, as they already know everything there.
² Never play against this man in We Didn't Playtest This At All, it'll end in tears. For that matter, don't play him at Skull either, as he will attempt to set up residence inside your brain and likely succeed.