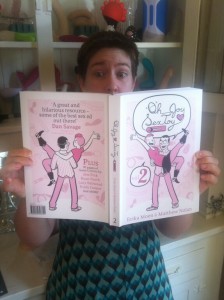 While Achwood remains down as of this writing, it appears that the worst fears of last week were not realized. Achewood is on its way back:
Achewood will be down for the weekend while we fix big old computer problems. I'm sorry for the absence.
Rioters and looters are urged to cease their devastation and return to their former lives as productive members of society. In other news:
The Cartoon Art Museum may have lost its gallery space, but that doesn't mean it's closed its metaphorical doors. Although the news reached us too late to make it about a future event, CAM participated in the Alternative Press Expo this past weekend in the San Jose Convention Center. Two panels were presented by CAM's Andrew Farago and Nina Kester, as well as the usual booth-based outreach and fundraising. Expect to see a wide-ranging presence of CAM at various shows, keeping up the mission while trying to find a place outside The Mission¹.
Progress report, and a happy story of a Kickstart gone so very, very right. Readers of this page will recall that Oh Joy, Sex Toy totally rules, and that also the second annual print collection was crowdfunded to great success back in June, with books expected to be shipped to backers in November.

Yeah, didn't work out that way. On account of pretty much every book was already in transit by the last week of September, and OJSTv2 is now available for purchase by the general public via fine merchateers TopatoCo. XX half of the OJST team "Hurricane Erika" Moen rose from her sick bed long enough to send me some excerpts and let me tell you — she and co-conspirator Matt Nolan have hit the sweet spot² of mixing informative, sexy, funny, sexy, engaging, and sexy all into a big ball o' fun. Sexy, sexy fun.

Moen and Nolan are just two of the many contributors, what with the many guest strips they've run (and, as discussed previously, paid for at a more than fair rate which was retroactively increased) over the year of the collection. Nearly a third of OJSTv2 is by guest contributors, throwing in exciting change-ups from the usual look and feel of the strip. It's a hell of a bargain (wholesale rates available, even!), and I recommend it to you quite heartily.
Confidential to Mer And Mike On Lawn Guy Land — So happy for you guys. Wrap yourselves up in joy and never emerge.
---
Spam of the day:
Amazing Opportunity to be Included In Women of Distinction Magazine!
Got some bad news for you there, Sparky.
_______________
¹ Because their gallery space was in San Francisco's Mission District, or The Mission, and they got priced out because it's all expensive there now and look it was clever, okay? Sheesh.
² So to speak.