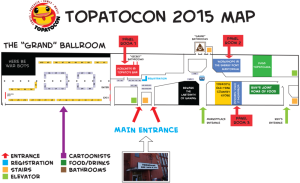 Computering issues (damn you, Windows 8.1, damn you right in the ear-hole) continue from yesterday. The data transfer process has been running for more than 24 hours, with the progress meter around 97% done for at least 20 hours of that time. Since I went to bed, the meter hasn't budged despite the fact that the the total number of restored files has gone up at least 15%. I literally have no idea how much work is yet to be done¹, and I can't just let the process run over the weekend because it requires access to a VPN lease that expires every 24 hours.
So I'm not able to do much with the network connection right now, you understand. And that situation may not resolve itself before I have to leave tomorrow for *hampton.
So let me point you towards the preparations that are occurring as I type:
They're delivering the tables and chairs for TopatoCon! It just got REAL

OK here we go²

The programs for @TopatoCon2015 are HERE and they're beautiful! Cover art by @catiemonster! #TopatoCon2015
Best start heading towards Massachusetts now, seeing as how the Pope is gonna have the area between DC and New York all tied up.
---
Spam of the day:
You're giving your body what it needs to bee hasppy and hesalthy living blogs canada
This sounds like an ad for Brawndo.
_______________
¹ Not exactly true; the original data transfer set identified itself as having 14461 files, 12.73GB. The progress meter tells me it is presently on file number 37798, which makes very little sense to me.
² Glad to see you got home safely, Jeffrey, and I was very sorry to hear about the TopatoCo https://twitter.com/wigu/status/646306201421094912.