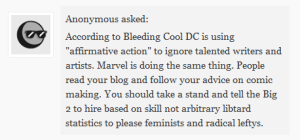 Before anybody makes a call to the local acute psych services on account of me actively wishing for death, consider my recent tweets:
1. New work laptop runs Windows 8.1
2. Max 1 week before I put my fist through the screen of this abomination.
3. Back to data xfer. #killme

It boots
[three blank lines]
so
[eight blank lines]
friggin'
[thirty blank lines]
SLOW.
We have reached a state that Roast Beef would recognize as even worse that the Bead Shop, and the shifting of my work is maybe one third done, which must be done tomorrow, before I leave for TopatoCon on Thursday because when I get back I have to immediately get on a plane for a client gig with said abomination. So this is gonna be brief.
---
No spam today, I'm already dealing with too much stupid.