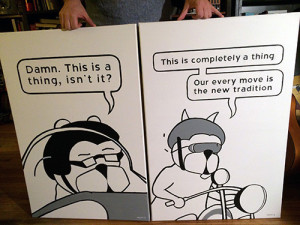 In rough chronological order.
It has been nearly six months since we noted that it had been a year since Achewood last updated. As I feel I must always point out when mentioning Achewood's update schedule, this should not be taken as a critique of Chris Onstad. Frankly, if the page never again updates and we are left forever with a vignette of Ramses Luther Smuckles forever contemplating his Journey, eviscerations, and the milk-eyed son of a slack-tittied dog, then that will be just marvelous; like a Zen garden, there are contemplative depths in those fourteen panels, and I can look at them forever.

No, I mention the hiatus because Onstad is not idle; I noticed over the span of summer that Onstad had done a series of paintings for sale, but somehow missed the earlier announcement that there were also commissions being taken and originals in a new gallery site. So I'm grateful that Chris Sims at Comics Alliance noticed and shared that knowledge.

Commissions, you guys, and original art. And, most excitingly, hand-painted enlargements of your favorite panels. I did not realize until today what it was that I most wanted in life and now I know.

I have written of missing the opportunity to get my copy of The Great Outdoor Fight inscribed with Ramses Luther Smuckles¹, and am now trying to decide what panel would best remedy that situation. Silent and foreboding, as here? With Sondra, in a moment of tenderness here²? Contemplating the staff of life and the relative merits of KitchenAid stand mixers in panel four? Time to start looking at the budget and making a decision.

Three and a half weeks ago I shared with you the closest thing I have to religion and the opportunity to get it on a notebook. At the time I exhorted all of you to pledge, on account of I want my notebook. It appears that you did not listen to me. As of this writing, the Book Block project is sitting at a mere 45% of goal with 16 days to go, and the per-day data are looking downright anemic.

So let me reiterate: I want my notebook, and if this project fails I am going to hunt down every single one of you bozos that thinks to yourself Hey that's pretty neat I ought to pledge oh darn it closed two days ago. Although, to be fair, the project runners have been damn quiet of late — one update four days after launch, a second four days later, and nothing for the past three weeks. I've exchanged emails with the creators, so understand I am prodding them as well as you. To all concerned, I re-reiterate: I want my notebook and none of us wants to see the other outcome. Pledge!

A week back I shared with you the happy news of a new Perry Bible Fellowship strip, and seven days later another new strip popped up in my RSS feed. Dare we hope … weekly?
---
Spam of the day:
Hello admin, i see your website needs fresh content. If you are too lazy to write unique posts everyday you should search in google for
Attention Workers it has been 127 days since our last dumbest spam sentence
_______________
¹ Make no mistake, I am thrilled with Cornelius Bear, but who could resist the allure of The Man With The Blood On His Hands?
² Or, if I'm feeling like dropping class money several times over, that second row as Ramses Luther removes the cap from Lyle's beer.