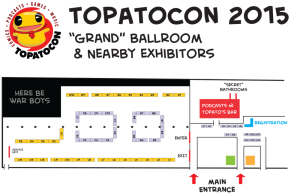 Man, I dig exhibitor maps for conventions. I love being able to figure out my approach to talk to all the people I want to talk to in the least amount of time. Sometimes the maps are huge and sprawling, and sometimes there's no point in trying to point out where the cool web/indie-comics types are because you'd just end up putting a circle on the entire damn map that says HERE on it.
It's the latter case that we concern ourselves with today, as both the SPX and TopatoCon exhibitor maps have gone up, and they're chock full of creators you're going to want to see. They're also on a humane scale, so I don't have to do one of those maps-hacks where I show you where to go on the showfloor, as I'll have to do sometime next week for NYCC¹.
Since we're already talking about TopatoCon (because let's face it, we're always talking about TopatoCon), one might point out a couple of new programs on the schedule. At noon on Sunday, please note the killer description for Pleasure Is The Measure:


Join us for a sciencey, sexy, feminist conversation about women, their bodies, and comics — featuring Kate Leth (Kate Or Die), Jess Fink (Chester 5000), Danielle Corsetto (Girls With Slingshots), and Spike (Smut Peddler) and moderated by NYT bestselling author Dr. Emily Nagoski (Come As You Are).

Smart ladies who know their way around what makes things sexy as all hell? Yes, please.

Also, one modestly points you to the new official description of the 5:00pm Saturday event in the podcast space²:


Join host Gary Tyrrell (fleen.com) as our three contestants Frank Gibson (Bee & Puppycat, Capture Creatures), Holly Black (The Spiderwick Chronicles, The Darkest Part Of The Forest) and Holly Rowland (TopatoCo VP) square off in a tournament-style cocktail challenge. Each contestant will be given a box of mystery ingredients and will make up a theme cocktail on the fly. One contestant will be eliminated in each round by a panel of judges chosen from the audience. Who will emerge victorious and who will get 86'd?

86'd/eighty-sixed is bartender slang for cut off and ejected from the establishment; think Chopped but for booze. This is gonna be fun, and I want to make ti clear that I am not the one putting together the challenges and will be just as surprised with what the contestants have to work with as you will. It's not Cutthroat Bar and I am not channeling my inner Evil Alton Brown³.

Oh, and because it's a damn shame that cocktail enthusiast Christopher Hasting will have to miss Boozetopia (due to his comedy-writing workshop happening at the same time), I will need a volunteer to take the best drink of each round across the hall to him.

Also, if you are going to be at TopatoCon, are at least 21 years old, and interested in being a judge for 86'd, I'm looking for people who will be able to articulate what they like (or don't) about a drink, not just chug the damn thing with an eye towards getting wasted. Please email me (gary) with the subject line TASTING AND JUDGMENT, at this-here website (fleen.com).

Speaking of Hastings, news comes today that once again Marvel is coming to him to add to their cape-comedy offerings:


The Gwen Stacy/Deadpool mash-up begins in a three-part back-up story by writer Christopher Hastings and artist Danilo Beyruth beginning in Howard the Duck #1 and going through the two subsequent issues.

In December's Gwenpool Special #1, She-Hulk throws a holiday party and invites many Marvel luminaries, with Gwenpool showing up. Writers Gerry Duggan, Charles Soule and Christopher Hastings, along with artists Danilo Beyruth, Langdon Foss, Gurihiru are listed for the book.

Marvel, just do what we all know you need to do and give Hastings and ongoing title where he can blend the action with the goofy. Because is there anybody else that would throw in a scene with Tony Stark telling Reed Richards about how many weddings he'd been to that summer where Get Lucky got played4? No, there is not, and that little bit of human interaction is what's missing from so many cape books (the magnificent Squirrel Girl excepted, obviously). Give him a book, Marvel. Doooo iiiiiit.
---
Spam of the day:
Hi, I do think this is a great website. I stumbledupon it ;)
I never use StumbleUpon; it renders like shit in my browser.
_______________
¹ Also, I'm never thrilled with the interactive maps that take you someplace else every time you click on the damn thing and which require JavaScript/Flash to run and are completely useless on mobile.
² AKA the bar.
³ Maybe next year.
4 Four.