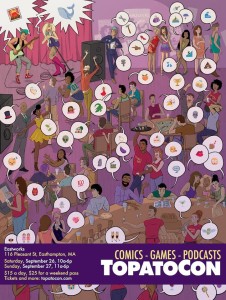 Let's do 'em in reverse order.
Paul Taylor has been cranking out Wapsi Square for fourteen — count 'em, fourteen! — years now. The initial slice-of-life story pretty quickly turned to the mildly supernatural, then evolved a full-blown mythology and world-threatening danger tied to the 2012 Mayan Apocalypse that got resolved a good two years before deadline.

The strip went back to life-slicing but Taylor couldn't stay away from the weird and he's introduced a new generation of characters — not humans interacting with a supernatural world, but teen paranormal creatures. That's about five shifts in focus in fourteen years, and no sign of where it leads next. Happy strippaversary, Wapsi Square.

Lucy Knisley does autobio unlike anybody else — she finds a way to chop her life and experiences into discrete stories with beginnings, middles, and ends. Sometimes it's around a time in life that has a fixed duration (like her travelogues), sometimes it's around a theme (like her food-centered stories), and now she'll be telling us about what it was like to get married — the time when distance caused a split from her boyfriend, the realization that they couldn't be apart, the run-up to the wedding, and what's happened in the year since. Her work is always a treat, and the cover for Something New has debuted over at Bustle. Check 'er out, and put in your pre-order now, because this book is mathematically certain to be great.
---
Spam of the day:
I am really enjoying the theme/design of your website. Do you ever run into any web browser compatibility problems?
You don't really care about the answer to that question, given the context of the rest of your comment, but I'll answer anyway: No, I don't. Because websites don't need to be complicated things. They can be just some graphics and text, which has the added benefit of not taking friggin' forever to load.
_______________
¹ Suck it, Moby-Dick.
² And we all now how ad hoc cultures are. The armies that coalesce might build themselves some cardboard fortresses. And if that's not enough, I hear that the mastermind behind Ultimate Team Cardboard Fortress Battle will be at Eastworks during TopatoCon weekend.