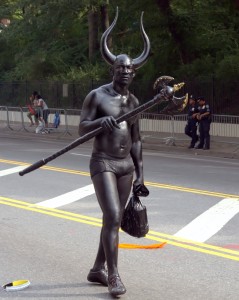 Hey. So I have to travel I-95 — aka Satan's Own Highway — alter this afternoon, the Friday before a long weekend. This is gonna be brief.
SPX has revealed its programming slate, and it appears to be the usual (i.e.: high on quality, low on quantity). Each day will feature two rooms of programming, one with events on the hour, the other with events on the half hour, from midday on. Highlights include:
Saturday at noon the slate kicks off on a high note, a combined spotlight panel on Kate Beaton and Noelle Stevenson.
Food, man, food. Tasty Comics will be about the intersection of food and comics, with Robin Ha, Jade Lee, Eric Colossal, and Jessi Zabarsky, moderated by Lauren Jordan. Get hungry at 1:30pm.
Comics are for everybody, and the straight white dude hegemony is starting (oh so slowly) to fade. Black Art Matters (with Darryl Ayo, Ron Wimberly, Whit Taylor, and Spike Trotman) drop some truth at 2:00pm, and Queer and Here to Make Comics! (Anna Archie Bongiovanni, Yao Xiao, Hazel Newlevant, and Kevin Jay Stanton, with Dylan Edwards moderating) reveal the secrets of the dreaded Queer Comics Agenda¹ at 6:00pm.
Sunday starts off as well as Saturday, with the first panel on sexy, sexy times and the message that Erotic Comics are for Everybody! (Sarah Winifred Searle, Anna Bongiovanni, Paul Reinwand, and Spike Trotman, under the loving guidance of Jess Fink) at 12:30pm.
Scott McCloud. 1:00pm. Come for the second half if you can't drag yourself away from the sexy times.
Comics and the internet will be the focus of Dear Internet: Today I Made a Comic. Now What? at 3:30pm; join Molly Ostertag, Aatmaja Pandya, Matt Bors, and Comixology's John Roberts, with Jen Vaughn moderating.
Have a heck of a weekend, Statesians. Maybe I'll see you on Monday, maybe not.
---
Spam of the day:
Download Bucky Larson: Born to Be a Star Movie.
I wouldn't watch that shit with your eyes, my friend; I ain't gonna watch it with mine.
______________
¹ Make comics while queer.