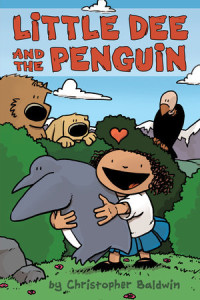 For varying values of soon, that is.
On the nearer end of the spectrum, we'll be following up on our recent :01 Week with a deeper dive on two of the books we reviewed. Specifically, the two that shared a post, Ben Hatke's Little Robot, and the Chris Duffy-edited anthology, Fable Comics.

Gina Gagliano at :01 Books has arranged for us to do a Q&A with Hatke, and for us to run some nice high-res art from The Boy Who Cried Wolf by the incomparable Jaime Hernandez. Each will run as part of a blog tour in support of the two books, and we'll point out where you can read other reviews/interviews/discussions when the time comes. Mark your calendars for 13 September for Little Robot, and 30 September for The Boy Who Cried Wolf.

A little further out (okay, not until Spring; this is how publishing works), we'll be obtaining and reviewing the crap out of the long-awaited, full color, original graphic novel from Christopher Baldwin, Little Dee and the Penguin. Here's the description:

When Little Dee meets a motley crew of animals deep in the forest, she knows she's found the perfect set of new friends. Between the bossy vulture, the slightly dim dog, the nurturing bear, and the happy-go-lucky penguin, this mismatched group of big personalities doesn't always get along—but they're a family.

And they're on the run. A pair of hungry polar bears are after the penguin, and the rest of the team are determined to protect her. They're not interested in adopting a tiny human. But Dee loves them—especially Ted the bear—and she won't let them go. Instead, she hops on their getaway plane and joins them on an around-the-world adventure.

Which sounds like a reboot — or maybe the movie adaptation — of the long-running (2004-2010, now approaching the end of reruns) webcomic. Vachel the vulture, Ted the bear, and Blake the dog were the family that adopted Dee, and there was no penguin at the time. Or was there? Anyway, condensing six years of strips into one story necessitates some changes¹, and I can't wait to see how LDatP reads. It's not out until 5 April 2016, so you've got time to read through the entire series and see what changes.
---
Spam of the day:
you're actually a excellent webmaster. Also, The contents are masterwork.
Damn straight.
________________
¹ But if you've got 128 pages to include the breadth of the story, we better see Baldwin's very best supporting characters, the Rogues of Wool.