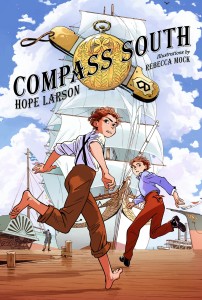 [tap, tap] This thing on? Trying to figure out if what I think was a shift of PHP will keep WordPress running; Brad Guigar ran a guest piece from Phil Hofer at Webcomics Dot Com a couple days back; it's behind a paywall so I'm not going to quote it, but it's something you should look into. Pre-emptive apologies if I break anything here.
In the meantime, y'all saw the announcement from Hope Larson yesterday about her collaboration with Rebecca Mock, right? Cover and story for Compass South are at Comics Alliance, which looks to combine Larson's always-sharp writing with Mock's lush art¹, which is going to be an absolute delight in combination. Best news: it's the first book of a series! Worst news: because of print lead times, it'll be summer 2016 before we see it. You know what? It's a fair trade.
It appears that I will be presenting at TopatoCon, alongside Frank Gibson and TopatoCo's own Holly Rowland on the topic of cocktails (see yesterday for details). Guys, I am so excited about this. Come see us nerd out on booze-mixing! Learn my feelings on falernum! Ice! Stirring vs shaking! And if you're very good I'll share the recipe for the Pineapple Maki which is made in a pineapple and is delicious.

The original session title, Let's Drink About It with Harrison and Bowman, now seems inaccurate, so I'm going to suggest Frank, Gary, and Holly Save Boozemas as a substitute. Presumably it will take place same time/place (Saturday, 26 September, 5:00pm — 6:30pm, Room One), but stay tuned here for any possible updates.
---
Spam of the day:
Bartender was very friendly and made… I've come here on many occasions for dates as well as business lunches/dinners. The atmosphere is cozy and relaxed and the decor is beautiful and…
If you can't tell me what the bartender made, then never darken my email inbox again.
_______________
¹ I love Larson's work and think she'll go down as one of the most important comics artists of the century, but her art style can tend to the sparse. I don't want to say it's minimalist, but she definitely gets across her ideas with a high-contrast, let-the-reader-fill-in-the-details-in-their-brain approach. Mock's art is more detail oriented, perhaps less restrained?