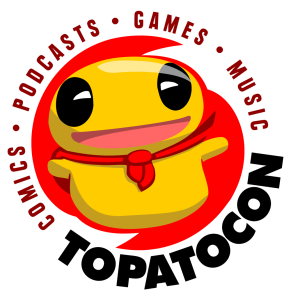 Tuesday as busy day? Very odd.
We start, as we have done with increasing frequency over the past five months or so, with TopatoCon, on account of they keep announcing stuff. Today it's fact that ticket sales are now live and the preliminary programing schedule is now up.

There are some unfortunate conflicts in the schedule, such as Saturday afternoon when the Let's Drink About It guys will be talking cocktails (oooh!) at the same time that Christopher Hastings will be leading a workshop on writing sketch comedy. This is tragic, because Hastings is a creative mixer of drinks and would greatly enjoy the LDAI session, but one can't have everything (I'll go there on your behalf, Chris, promise).

It's also ironic that on Sunday afternoon, there will be discussion with Wes Citti and Tony Wilson about how to Play Nice With Others at the same time that David Malki !, Spike, Kate Leth, and Randy Milholland will be talking about how Internet People are basically dicks who've forgotten how to Play Nice With Others.

Speaking of small conventions heavy with indie-type creators, SPX have announced the Ignatz Award Nominations for 2015, and there are a couple of names that stand out. Specifically, Jillian Tamaki is all over the damn thing (and deservedly so), with nominations for Outstanding Artist, Outstanding Anthology or Collection (both for SuperMutant Magic Academy), and Outstanding Story ("Sex Coven", from Frontier #7).

Other webcomics types include Emily Carroll for Outstanding Artist (Through the Woods), Sophie Goldstein¹ for Outstanding Graphic Novel and Outstanding Comic (both for The Oven), and Box Brown for Outstanding Anthology or Collection (An Entity Observes All Things). The category of Outstanding Online Comic itself has nominees

Best of luck to all the nominees. The Ignatz Awards will be presented at SPX, 19 September, in Bethesda, Maryland.

Speaking of longtime webcomickers who are looking to spend more time making webcomics and less time at the day job (okay, we weren't, but work with me), David Morgan-Mar (PhD, LEGO®©™etc) is about to join your ranks. Having spent more than a dozen years making more than a dozen comics with literally an infinite number of updates, Morgan-Mar has decided that the drudgery and unrewarding nature of the day job² is less fun that making comics and other creative things, and you can help make it possible:


News: Hey folks, I have good news! I have talked with my manager and HR department at work, and confirmed that I can reduce my working hours to 9 days per fortnight. That means I could spend one full day every two weeks making more creative stuff!

But I have a mortgage and bills to pay, and am very risk averse. So I have posted a goal of raising US$750 a month on Patreon to partly offset my resulting loss in income. If I can reach this goal, I will make this move and dedicate a day every fortnight to making more comics, books, podcasts, videos, and other cool stuff. This will include raising the number of new Irregular Webcomic! strips to 4 per week.

And if I can get to the dream goal of $1500 a month, I can quit my day job one day per week, and Irregular Webcomic! will return to a full 7 new strips per week. Spread the word! And please consider supporting my Patreon. Thank you to all of you

For reference, Morgan-Mar is presently at just under US$450/month, or 60% of the way to goal. And honestly, if there's anybody that should be able to be a full-time creative, it's Morgan-Mar. The dude's got more ideas per cm³ than anybody else on the planet. I can't wait to see what he can come up with when he can spend full days on his ideas instead of a stolen hour or two.

Kickstarts? Kickstarts! Alina Pete is doing a card game based on the concept of the tarot, sitting about 18.5% of goal as she comes into the back third of the campaign time. This one needs a big bump if it's gonna get made. On the other end of the spectrum, Ryan Sohmer is looking to make three books of Least I Could Do and is about 35% of the way to goal since launching yesterday. The Fleen Funding Formula (mk II) doesn't apply to either project due to the low backer counts, where predicted results and actual results diverge violently.
I have serious problems with Lenovo these days due to their terrible, terrible decisions re: privacy-invading design decisions in their consumer line of laptops, so they are very lucky that Ryan North is a likable dude with an adorable dog and he's willing to promote their ThinkPad line4. I am sorry to say that I don't trust the company you are promoting, but we are still cool, Ryan.
---
Spam of the day:
Do you have any tips for rookie blog writers? I'd certainly appreciate it.
Footnotes, man. Readers dig footnotes.
_______________
¹ Goldstein is also listed as a member of the Jury, but please note two things about the Ignatz rules: the Jury is anonymous, even to the other members, during the nomination process, and while Jury members may not nominate their own work, there is no prohibition from one Juror's work being nominated for an award by his or her fellow Jurors. I trust that Ms Goldstein recused herself from any decision that would have resulted in her own nominations.
² Working on image-processing for a corporate research arm and helping to set the ISO standards for image definitions. Such boring and unappreciated scut-work! Might as well work retail.
I almost said all of that with a straight face. Next time for sure!
³ That's a "power of three", or cubic centimeter, not a footnote.
4 Which line doesn't seem to have been affected by Lenovo's terrible, terrible decisions — which is actually even worse, because the ThinkPads are mostly aimed at corporate customers that are best able to detect and mitigate such terrible, terrible decisions. The consumer-grade laptops that Lenovo sold pre-compromised are hitting the demographic least able to defend themselves. Never buying another Lenovo product, but man, Chompsky's cute.