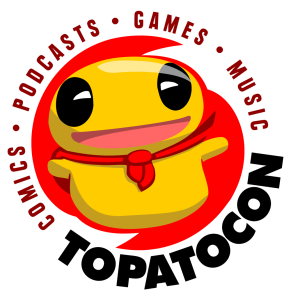 TopatoCon, that is. For starters, there's more names on the exhibitor's page — I noticed Kevin Budnick, Gillian Goerz, Jonathan Griffiths, Phil Kahn, and Stacey King in addition to the previoiusly-announced guest below the cut — and there's news of a pre-con concert!
TopatoCon proudly presents:
THE DOUBLECLICKS
FEATURING MOLLY LEWIS

To kick off our convention weekend, we've invited some of our favorite musicians to play a concert that's open to the public!
FRIDAY, SEPTEMBER 25

8 p.m., Doors open at 7:30
Academy of Music Theatre
274 Main St
Northampton, MA 01060
TICKETS

$15 General
$12 Students

Purchase at the box office, by telephone at (413) 584-9032, ext. 105, or click here to order online.
Reminder: this is before the con even starts, and you're entertained; further, those that have never seen The Doubleclicks or Molly Lewis before can sample their (considerable) talents and have the opportunity to meet them the next day (although Lewis isn't listed on the exhibitor site yet, I doubt she's getting out of town immediately after the show) and buy all their stuff. That's at least a win-win, possiby a win-win-win-win.
In other news there's a pair of comics that tell stories about being in comics. The first is from Maki Naro, and tells of his righteous irritation at yet another "contest" for illustration/comics pros that amounted to spec work; he actually submitted it to the contest-holders in question, which I think is brilliant and laudable. The other is from Faith Erin Hicks (h/t: Heidi Mac at The Beat), and tells of how you can only break into comics by knowing the secret handshake and living in a big city oh wait no, that's not how it works. Both of them are worth your time.
---
Spam of the day:
You are requested to claim your pending commission
payout in the amount of $7,302.29 earned since
you registered for our programme.

Best regards,

"Ashley"
Bite me, "Gary"
KC Green
Jeph Jacques
Jess Fink
Tom Siddell
Rosemary Mosco
Kate Leth
Anthony Clark
Christopher Hastings
Danielle Corsetto
David Malki !
Dante Shepherd
Becky Dreistadt & Frank Gibson
Michael Rapa
Mildred Louis
Sara Goetter
Jon Rosenberg
Karla Pacheco
RJ Lake
Spike
Allison Shabet
Lauren Jordan
Joshua AC Newman
Magnolia Porter
Alison Wilgus
Shoona Browning
Randy Millholland
Brian Lee
Cohen Edenfield
David Willis
Kori Michele Handwerker
Hannah McGill
Blue Delliquanti
Evan Dahm
Molly Ostertag
Amazing Super Powers
Kory Bing
Boston Comics Roundtable
Tony Breed
Cardboard Fortress Games
Eric Colossal
Matt Cummings
Megan Nicole Dong
Catie Donnelly
The Doubleclicks
G Town Games LLC
Games By Play Date
Erin Gladstone
John Green
Tyson Hesse
How To Win At Everything (Daniel Kibblesmith & Sam Weiner)
Kitfox Games
Amanda Lafrenais
Braden Lamb
Matt Lubchansky
Ira Marcks
Kel McDonald
David McGuire
Tom McHenry
Maki Naro
Nerdcore Medical
Cole Ott
Aatmaja Pandya
Amanda Scurti
Sarah Winifred Searle
Small Beer Press
Sarah Sobole
Space Whale
Spriteborne
Olivia Stephens
Jordan Witt
Jessi Zabarsky
Z Akhmetova
Lex Cornell
Shelby Cragg
M Dean
Sarah Tacey
Jim Zub