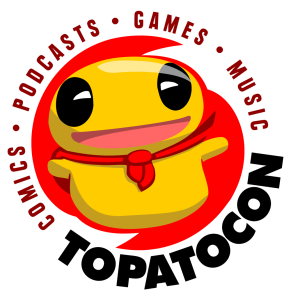 The fine folks behind the next great webcomics-centric convention (that would be Holly and Sara) released a bit more information, including an updated exhibitor list, information on where to stay, and transportation options. Let's dive in.
On the Exhibitor page I spy a few new names, including Z Akhmetova, Lex Cornell, Shelby Cragg, M Dean, Sarah Tacey, and Jim Zub. There are some corrections as well, with the former Skullmandible now listed as Cohen Edenfield (Skullmandible), and Kori Michele as Kori Michele Handwerker. Also, Jeph Jacques has confirmed that he will be there after all. Compare to the previous exhibitor list, which is below the cut.
Also, the hotel listings and directions are now up, the latter of which includes something that I've never seen before: a con-provided rideshare forum, so that if you happen to be passing by one of the airports or rail stations, you can maybe pick somebody up for a cut of gas money and tolls.
Naturally, one should take all possible precautions in utilizing this method of transit, as this discussion between showrunner Sara McHenry and exhibitor Dante Shepherd shows:
So far two TopatoCon exhibitors have signed up on the attendee rideshare spreadsheet. Working with cartoonists is fun and cool always

Will I have to mention that my truck does not have AC and I like to stop to give drifters rides too if I sign the list

I think that's an assumed level of risk.
(Dunno if I'd trust that Shepherd guy if I were you — he claims to have a pseudonym to separate his comics from his academic career, but how much do we really know about him?)
Still to come: programming, events, and fun things to do in town. Stay tuned to this page for information as it become available.
---
Spam of the day:
Protect Your Deck from Winter,
As soon as I get a deck, I promise to get back to you so we can protect it from winter in the middle of August.
KC Green
Jeph Jacques
Jess Fink
Tom Siddell
Rosemary Mosco
Kate Leth
Anthony Clark
Christopher Hastings
Danielle Corsetto
David Malki !
Dante Shepherd
Becky Dreistadt & Frank Gibson
Michael Rapa
Mildred Louis
Sara Goetter
Jon Rosenberg
Karla Pacheco
RJ Lake
Spike
Allison Shabet
Lauren Jordan
Joshua AC Newman
Magnolia Porter
Alison Wilgus
Shoona Browning
Randy Millholland
Brian Lee
Skullmandible
David Willis
Kori Michele
Hannah McGill
Blue Delliquanti
Evan Dahm
Molly Ostertag
Amazing Super Powers
Kory Bing
Boston Comics Roundtable
Tony Breed
Cardboard Fortress Games
Eric Colossal
Matt Cummings
Megan Nicole Dong
Catie Donnelly
The Doubleclicks
G Town Games LLC
Games By Play Date
Erin Gladstone
John Green
Tyson Hesse
How To Win At Everything (Daniel Kibblesmith & Sam Weiner)
Kitfox Games
Amanda Lafrenais
Braden Lamb
Matt Lubchansky
Ira Marcks
Kel McDonald
David McGuire
Tom McHenry
Maki Naro
Nerdcore Medical
Cole Ott
Aatmaja Pandya
Amanda Scurti
Sarah Winifred Searle
Small Beer Press
Sarah Sobole
Space Whale
Spriteborne
Olivia Stephens
Jordan Witt
Jessi Zabarsky