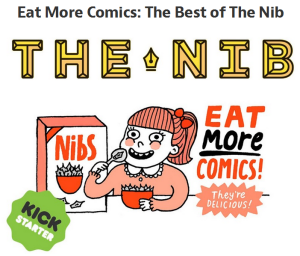 Well, no, not really, but that was a concentrated burst of good stuff I got to talk about last week, so maybe I'm feeling a little nostalgic. Then again, nostalgia is a disease, so let us look forward, not backward¹.
Speaking of nostalgia, I got to spend some time on Saturday night with an old friend in an old familiar place; the Peculier Pub is not only a key location in the history of Goats, but it's the location where more than ten years ago Jon Rosenberg gently strongarmed me into starting this here blog².

Sharing beer and scotch with the soulkeeper was a too-uncommon-these-days treat, and we even got to talk a little webcomics along the way. Namely, Jon is fired up for his forthcoming Tales of the Drive guest story for Los Angeles resident Dave Kellett, and his reason for doing so can be summed up in one word: Nosh. Everybody I've spoken too about TotD seems to be Noshphilic, so if LARDK ever gets to make, say, a Drive movie or series, we know who the first action figure will be.

Also at the drink-up: once and future associate editor of The Nib Matt Lubchansky and I got to talk about the impending funding-out of The Nib's print collection, Eat More Comics. Specifically, we spoke about how Lubchansky had been drawing all the custom portraits for high-value backers that afternoon.

More specifically, we spoke about our priorities in stretch goals (Lubchansky wants to see backers get bonus exclusive comics from Zach Weinersmith, R Stevens, Gemma Correll, and Matt Bors; I want to see the higher page rate for the creators). Even more specifically, Lubchansky is grateful for the efforts of Make That Thing on the production/fulfillment end, as it means that Eat More Comics will premiere at SPX³ and he won't have to mail the damn things from his apartment. Everybody feel good for Matt Lubchansky!

From Heidi Mac, news that the Society of Illustrators has announced a new venue for the 2016 MoCCA Fest, seeing as how the very neat space they found this year is being chopped up for condos. Next year the Fest heads uptown to Metropolitan West, which is an event space that seems classy, airy, open, and will no doubt get chopped up into condos sometime in 2018.

Panels will (as they were this year) be held at a nearby upscale hotel — this time, Ink48 (which being part of the storied Kimpton chain, is a place that knows how to treat people right). Metropolitan West is at 46th Street across the street from the Intrepid Sea-Air-Space Museum, and Ink48 about two blocks away at 11th & 48th. That corner of the island isn't especially well served by subway, meaning that the streak of slight inaccessiblity for Manhattan shows remains intact.
---
Spam of the day:
Natl Gun Assoc, "You Must Have This [flashlight] to Survive a Crisis"
I'm a little surprised and suspicious that the National Gun Association wants me to have a flashlight more than, you know, a gun.
________________
¹ Upward, not forward, etc, etc.
² For which I will be in equal measure grateful and resentful for the rest of our lives.
³ A mere 38 days after the campaign ends, possibly less than a month after the Kickstarter check clears.