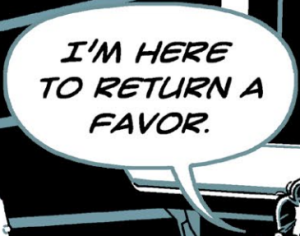 This page has long been a fan of Dean Trippe's Something Terrible, which has been a webcomic and Kickstarted as a book-book. The elephant in the room is that the book is late — delivery was estimated in June of last year — which I'm willing to give Trippe all kinds of slack for. He told a story about himself, and as a result found himself the impromptu leader of a tribe whose price of membership is way too high but whose fellowship is literally lifesaving.
This is especially apparent with the next PDF version of Something Terrible that Trippe sent to his backers this week, which features a new essay about what the experience of sharing his secret origin is like — having stepped into the spotlight, he's experienced stressors that weren't there before:
I'm humbled to know how many people desperately needed my story, and most of the time, I don't regret it. But if I'm being honest, it's hard. Even revisiting all of this in order to complete this print edition has been tough. I thought doing the digital edition was all the therapy I needed, but I've learned that it's an everyday thing. Always healing. Always training. Just like Batman.
So, yeah. Next time you find yourself with hundred of abuse victims reaching out to you to make it better, I'll give you slack on your missed deadlines, too.
But Trippe's done more than work through the mechanical and logistical aspects of putting Something Terrible into print; he's added a new four-page epilogue to the PDF that he sent to backers this week. It hits a payoff that is even more emotionally overwhelming than the justly-lauded You'll Be Safe Here.
Think of it as the post-credits scene in the superhero movie that is Trippe's story, one that required the very tight cropping shown above to not spoil. It's a perfect coda, I can't wait for you all to see it, and never forget: not all heroes wear capes.
---
Updating yesterday's list of GenCon exhibitors from the wide, wide world of webcomics, Steve Hamaker reports he'll be there with Scott Kurtz (but not sure where, exactly), and David Malki ! reports that he'll be at the Blind Ferret table.