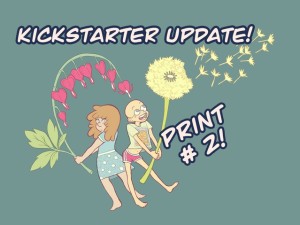 Where, @Delta willing, there will be no hassles in getting back home. If there are, however, I'll most likely be the cause of the disruption at the Atlanta airport that makes the news. Not much going on (Thursdays are always the quiet day in Webcomicstan), so let's consider a couple of Kickstarters that I think are funding too slowly for comfort. Disclaimer: I am backing both of these and want my books, dammit!
We're about a third of the way through the Eat More Comics campaign to print the best of The Nib, and well into the fallow period where little activity takes place, with an uptick in the last week or so. It just barely makes the cutoff for analysis under the FFFmk2 with 201 users on day one, giving us a prediction of US$53.8K +/- US$10.8K, which is a bit worrying — the low end of that range is below the goal of US$45K, and even the midpoint is not enough to get more money for the contributors.
In happier news, we're at about the 60% point in terms of duration, but the 75% mark in terms of funding for Monster Pulse volume 2, and what puzzles me the most is the very low backer count for Magnolia Porter's well-loved story of teens in a weird situation. More than 500 people backed Porter's first print collection, but we're only at 210 people on book 2 so far. Where's all the former backers? I know you didn't fall out of love with Monster Pulse since that's not possible, so are you deep in student debt? Lost your jobs? Time to sell some blood plasma, Gary needs his book.
Okay, okay, let's make this a little bit not about me. GenCon has become much more webcomicker-populated in the past couple of years, and this year may set the record for participation. Off the top of my head, those in Indianapolis next week can see folks like the Blind Ferret crew, Jennie Breeden, Rob Balder, Randy Milholland, Jeph Jacques, John Kovalic, Howard Tayler, and the ubiquitous Jim Zub. Note that they won't all be listed under their own names; Zub and Tayler will be with Tracy Hickman at booth 1935, Milholland at BFE, and I'm not sure where Jacques will be. When in doubt, check twitterfeeds.
---
Spam of the day:
Esta me funcion realmente y la compr en una promocin
"This really function and bought me a promotion"? Okay.