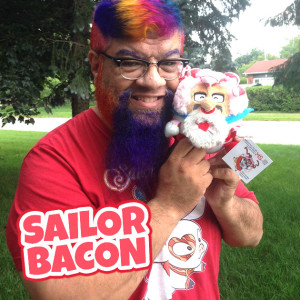 We're all over the place today, from the neatest, most encouraging news to the most horrifying visions of what eternal damnation must surely look like. I suspect that no two of you will precisely agree where on that scale each of these items will fall.
Well, okay, I suspect that everybody will place the already-fully-funded Kickstart for Lucy Bellwood's nautical comics collection, Baggywrinkles, on the positive side of that scale. It's part autobio, part educational, a downright bargain with physical copies of the book going for as little as US$16, and featuring an all-new story about scurvy! And a very modest US$20K stretch goal will take the collection from B&W to color!
Sticking with Kickstarter for the moment, we'll note that Matt Bors was lying to us when he said that the Eat More Comics Kickstarter campaign would not have stretch goals, on account of they just announced some stretch goals. Every coupla' thousand bucks from the US$45K goal means exclusive comics from the likes of Zach Weinersmith, Rich Stevens, Gemma Correll, and Bors himself.

Even better, hitting US$60K means that all the artists — who are getting paid for their comics to run in the collection, on top of the pay they received to run at The Nib, on top of whatever they made from drawing them in the first place — will get a page rate boost. I've said it before and I'll say it again — the best part about Bors & Co is that they pay, and even if some of what The Nib ran made you grind your teeth and regret that money went/will go to cartoonists you despise, I can pretty much guarantee that even more money went/will go to cartoonists you love. Let's help 'em make rent.

Love 'em, hate 'em, wonder how they became so dominant in at least one field (webcomics) and superdominant in another (videogames), there's no denying that the lads at Penny Arcade cast a long shadow and that they attract attention from outside both those areas of endeavour.

This time it's the advertising world, where Jerry Holkins and Mike Krahulik were named to a list of 10 visual artists who are remaking advertising, part of an overall list of the 100 most creative people in/adjacent to advertising. Also on that list with Krahulik & Holkins: Annie Leibovitz (the most important portrait photographer of the past four decades) and Brett Doar (who creates all those Rube Goldbergian installations for OK Go music videos).

And as long as we're on the topic, Randall Munroe was recognized not specifically for comics or art, but for his ability to create viral content that blows the hell up. Also on that list with Munroe: Serial's Sarah Koenig. Looking at the other 80 names on the list, you'll find the likes of John Carmack (for Oculus VR), Amy Schumer, Janelle Monáe, Mindy Kaling, Ta-Nehisi Coates, Neil deGrasse Tyson, Joseph Gordon-Levitt, and a whole bunch of ad pros and commercial directors you'll never have heard of. This time next year I'd expect to see Raina Telgemeier or somebody at Ad Week is missing the boat.

Finally, I think that we all also will agree on which item definitely falls on the negative side of the scale: for all those who have ever seen Lar DeSouza's Sailor Bacon cosplay has never been able to un-see that spectacle, that extravaganza, those bloomers. We can console ourselves that the display was always for a good cause (namely, the Multiple Sclerosis Society of Canada), even if there was no way to convey the full horror to those that weren't there to share in the mental scarring.

In a grand effort to support me and my wife in our annual fundraising efforts for Multiple Sclerosis research, [Ryan] Sohmer and Blind Ferret have made available these adorable and somewhat disturbing Sailor Bacon plushies!! Designed by me and manufactured by the fine folks at Soft Stuff (who also donated a portion of their manufacturing costs to the MS Society of Canada!), these tiny ambassadors of hugs are now shipping from the BFE headquarters.

You can order up one of these abominations and send it to somebody that needs a good disturbing! Why should you be the only one unable to ever sleep again without seeing … that … lurking behind your eyeballs? Drop your twenty five bucks, spread the madness, take some minor solace that this great sin against Nature benefits a worthy cause, or maybe just buy them all up and see if you can destroy them before they worm their way into your brain.

It's too late. They've got you. Pray for the mercy that you'll succumb to sweet, forgetful madness quickly and Glob have mercy on your soul.
---
Spam of the day:
Your LED Flashlight Coupon, 75% off expires 07/21/2015
I'll admit — this one almost got me. I'm a sucker for a good LED flashlight.