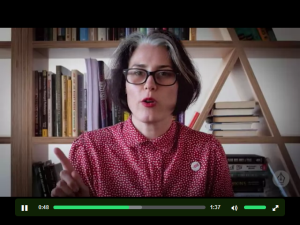 We at Fleen have talked a lot about The Nib, the Matt Bors-run editorial (mostly) cartooning subsite at Medium, from its inception to its recent folding-up. Things are happening rapidly over there, and if you haven't been paying attention, it's time you did.
Firstly, they launched a Kickstarter to publish a 300 page book containing the best of the 2000+ comics that were published there in the 1.5+ years of operation. And quite frankly, I'd be talking about Eat More Comics even if Bors had promised that every single one of those 300 pages would be filled with comics I hated by cartoonists whose work I despised¹ for a very simple reason, which was stated by onetime associate site editor Eleri Harris, starting about 45 seconds in on the Kickstarter video:
The money we're asking for is for two things: Firstly, we're going to compensate all our artists fairly for republishing their work again.
The thing about The Nib that I loved most of all — the reason that you should have loved The Nib when it was still a thing — is that they paid. Cartoonists got paid for the right to publish their work (or in many cases, re-publish work that had already appeared elsewhere); Bors had a budget and he wasn't afraid to use it. And I don't know what the contracts for running cartoons on The Nib looked like, but Bors, Harris, and onetime assistant site editor Matt Lubchansky are paying the creators again for the right to republish them in the book. Which led to the second money (so to speak) quote of the video, from Lubchansky, starting about the 1:10 mark:
If we blow past [the funding goal], we're just gonna make more books and give the artists more money.
We all know that not a day goes by that somebody doesn't try to get artists to work for free, or to under-pay them by offering crappy contracts that many (especially creators at the start of their careers) feel obligated to sign out of fear of missing out. The only response that a creator should ever have to such an overture is No, pay me.
Unless, that is, the creator is approached by whoever the hell this is arguing with Rachel from What Pumpkin² that they should get to use Homestuck without paying because (variously):
Other people aren't asking for money!
We're building a BRAND!
We're all still young and have never done this before!
We don't have any money!
But our Kickstarter!³
In which case, the appropriate response is Fuck you, pay me.
Getting back to the original point, I don't think that Bors, Harris, and Lubchansky have ever heard Fuck you, pay me directed at them, and that is reason enough to support Eat More Comics.
The other reason will be that a good showing in the Kickstart will provide direct, measurable numbers on what the support for a site like The Nib is, and how much of those supporters are willing to part with actual money. That can only be helpful to Bors as he talks with other publishers with an eye towards reviving The Nib, seeing as how he's left Medium. Here's hoping we don't have long to wait before cartoonists the web over once again have a site whose mission statement is Hey, can we run your cartoon? We pay.
---
Spam of the day:
Hmm it appears lile your blog aate my first comment (it was extremely long) so I guess I'll just suum it up what I haad written and say, I'm thoroughly enjoying your blog.
No, your first comment was about gold farming in MMORPGs.
_______________
¹ Which do exist on The Nib, which is a point in Bors's favor — if you're running a cartooning site that's mostly editorial and I love/agree with everything you publish, you're doing a crappy job. Bors does not do crappy jobs.
² I have my suspicions, and there aren't many Kickstarts going on now that would fit the pattern that the whiny person describes, but since Rachel's anonymized it I'll keep my speculations to myself.
³ Repeat after me: Kickstarter is not a magic money machine that you go to as rank newcomers to be discovered and made suddenly wealthy. It's a way to measure the appeal of products to an audience that you already have. No audience going in means you're going to receive some hard lessons coming out. Maybe you'll be smart enough to absorb them, but I'm not overly optimistic.