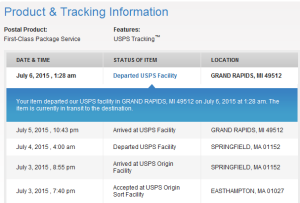 Everything has to do with Kickstarter today, even the fact that the US Postal Service has apparently taken a package (in fulfillment of a Kickstarter) meant for delivery from TopatoCo/Make That Thing headquarters in the Pioneer Valley of Massachusetts to The Fleenplex in scenic downtown New Jersey, and sent it through Western Michigan. USPS: not good at maps.
---
Spam of the day:
I don't see many commenters here, it means you don't get many visitors. I know how to get laser targeted
At last! Something not to do with Kickstarter! Also, you know who gets laser targeted? Sniper victims. Noooo thank you.
_______________
¹ My evil twin, etc.