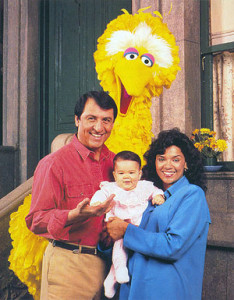 I don't know if it's because yesterday was Canada Day and Canadians are still dealing with the aftermath of their celebrations, or because tomorrow is the observation of Independence Day and Americans are getting a head start on their celebrations, or because San Diego preview night is less than a week away, but it is dead out there today.
(Actually, I do know why it's dead out there today. It's combo of:
The news that Sonia Manzano¹, aka Maria from Sesame Street has announced that she's retiring from the show after 44 years and we're all preoccupied with thinking how much she influenced our lives while feeling bad for future generations that won't get the same experience. Also, what about Luis? Oh my glob are they going to split up? Is Maria going to die? Next it'll be Bob that goes away and they may as well pack up the set, I can't even.
The fact that my internet is hell of acting up today, with certain sites — minor sites, like Gmail — intermittently refusing to load, while the work laptop is just fine when it's on VPN and the phone is just fine when it's on cell data. Yep, this one's on you, Verizon, and since your phone process makes it basically unpossible to actually reach a human being (much less one that knows how to actually fix things), I'll just have to ride this one out and I hate you².)
So let's look at some things coming up a bit later in the month, yeah? They're both at the Cartoon Art Museum because good on them keeping up the programming while simultaneously prepping for their involuntary move of location.
First up, Thursday, 16 July from 5:30pm to 8:30pm, CAM will be holding a master class in Comic Book Storytelling, conducted by Alan Gordon (who's worked on some indie comics called Fantastic Four and Captain America). It's going to set you back US$50 (US$40 if you're a CAM member) and will teach you scripting and storyboarding.
And then a couple weeks later, from 27 July (that's a Monday) to 31 July (Friday), you can send the late pre-snotty stage kids (call it 10 – 14) with intermediate art skills to Cartoon Boot Camp, each day from 11:00am to 1:00pm³. This session is on Constructing Comics, and will teach the full set of skills: developing a story, rough layouts, illustrating, and creating a final comic. They'll look at different formats (comic book, comic strip, manga) and create an original during the week. This one costs US$135 (US$100 for members) and includes basic materials, but feel free to send your sprogs with their own sketchbooks and tools.
Both classes are at the Cartoon Art Museum, 655 Mission Street in San Francisco, which I must stress is a great space. If you possibly can, take the opportunity to check it out before it has to pack up for new digs. Oh, and if you're going to be at SDCC next week, be sure to drop by the Cartoon Art Museum booth (#1930) and toss 'em a few bucks drop by to see curator Andrew Farago at one of the panels he'll be moderating (Comic Strips in the Modern Era on Friday; Working Together: Writers and Artists and Kids' Comics on Saturday). Feel free to thank him for the great work the museum's done, too.
Oh, and remind me to drop a note of thanks to Sonia Manzano for teaching me to count to ten in Spanish when I was wee. My favorite number is still ocho.
---
Spam of the day:
Gut Bacteria Responsible for 170 Digestive Disorders — Go here to eliminate toxic gut bacteria and eliminate digestive problems in 2 minutes a day
You know what else my gut bacteria are responsible for? Keeping me alive. I think I'll maybe not take your snake oil and maybe die as a result, thanks though!
_______________
¹ How did I not know until today that she was in Death Wish with Jeff Goldblum? Kids, do not go exploring her complete filmography unless your parents are around, okay?
²That you refers to the incompetent human being that Verizon won't let me reach, not you personally. You're lovely.
³ Actually, the reservation page says it's until 2:00pm, not 1:00pm. Better check what time you need to be there to pick up your kid so you don't get done for abandonment or something similarly stupid.