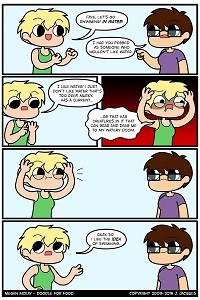 Or possibly they're urged to remain calm; the ink ribbon in the teletype here at Fleen Central is really old and faded.
It appears that the magic has faded, but vague hope may be held out for next week, as Jeph Jacques allows for the possibility of return:


I have a few awesome guest comics left so I will run some more next week! Have we seen the last of #buttrocket???? WE SHALL SEE

None of which should be taken in a way that causes one to think that Megan McKay hasn't turned in a terrific strip; it's adorable, and one could argue more QC-ish than the past four days of gluteal missilry, and should be enjoyed on its own merits.

Edit to add [6:00pm EDT 20 June 2015]: #buttrocket is too strong to be denied; the strip has mysteriously sprouted three more panels and now features #buttrocket. The #buttrocket panorama will be updated at a later date to reflect this.

As a consequence of the Cartoon Art Museum getting a lease extension¹, various events at CAM now have different run dates. More precisely, the following exhibitions have been extended to run to the (currently scheduled) close date of 12 September:


Darth Vader and Friends
Savage Dragon: The Art of Erik Larsen
The Bronze Armory Showcase
Songs and Secrets: The Art of Song of the Sea and The Secret of Kells
Small Press Spotlight on Geoff Vasile

You've still got all summer to make your way to San Francisco and check 'em out.

Regular readers of this page may recall that from time to time, Fleen participates in blog-based book tours, usually for releases from our friends at :01 Books. There's one going on now, in support of the second volume of Last Man by Bastien Vivès, Michaël Sanlaville, and Balak, due out Tuesday. If you haven't read the first volume, it's basically on the time-honored manga theme of the insane fighting tournament, but done by French creators so it's over in three books instead of fifteen or twenty.

There's a lot going on in the book below the surface, and we'll have a Q&A with the creators here on Monday, so be sure to come back then. Thanks as always to the incomparable Gina Gagliano at :01 for our review copies, and for doing all the logistical footwork in getting the blog tour set up.
Okay, we're out of here; enjoy your weekend and remember tell your da you love him this much.
---
Spam of the day:
thermal & cold polymerization petroleum resin, petroleum naphthalene, tar and thousand-ton capacit
You're the sons of bitches that lifted my credit card number to try to buy US$7000 worth of industrial chemicals, aren't you? Only got one thing to say to you.
_______________
¹ Meaning they won't have to close their doors next weekend.