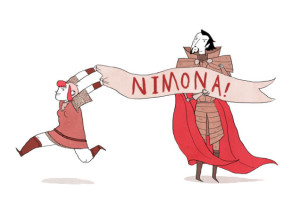 So I have a flight to catch, meaning this is going to have to be short; rest assured, each of these stories is worth many more column-inches¹ than I have time to give it right now.
It's a great time to be Noelle Stevenson! Hot on the heels of the Lumberjanes movie news comes word that Stevenson's webcomic, Nimona, is to be an animated feature. You can take your pick of stories — I like the one from io9, personally — it appears that toute les bandes dessineés-web is thrilled for Stevenson, and even more thrilled that more people will get to be exposed to Nimona.
It's anniversary time in webcomicsland — Chris Hallbeck realized t'other day that it's been five years since quitting the day job in favor of comicking, and put together a recapof his best office-themed comics. This one's my favorite. And Howard Tayler² can probably tell you down to the minute exactly when he quit the corporate world to concentrate on Schlock Mercenary, which strip started on this day in 2000, resulting in 5479 consecutive days and 5479 consecutive strips. You make the rest of us look considerably less industrious than we would appear to be otherwise, Howard — congratulations, you unstoppable machine, you.
This last piece is less about congrats and more about stop doing whatever you are doing right now and take five minutes to learn something. It's been fallow times these past two weeks over at The Nib since parent company Medium messed with editorial focus and funding; editor Matt Bors has kept the lights on and run some longer pieces of what I'd call comic strip journalism, and today's entry by Dale Beran is as good as such comics get.

It's a follow-on to his piece on the riots in Baltimore (where he's a public school teacher) about six weeks ago, on the general topic of how "normal" times in the schools are both a perfect consequence of the situation that prompted the unrest, and a perfect predictor of the next situation. Go and read Warnings and Instructions right now, and the next time somebody tells you how "they" don't care enough to do well in school, or don't value education, or need to be willing to work harder to rise above their circumstances, share the link.
---
Spam of the day:
Hi,i believe t?at ? saww you visited my blg th?s i got here too return the favor?
World of Questionmarks is my new favorite site.
______________
¹ Or, if you don't live in America, 2.54 many more column-centimeters.
² The best evil twin I could ever ask for.