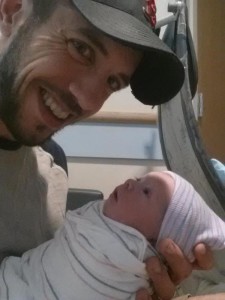 Alison Wilgus, one of the new invitees to TopatoCon, was kind enough to drop a comment on yesterday's post to let us know that there are still more new invitees to TopatoCon that we at Fleen missed.

Aatmaja Pandya, Maki Naro, Matt Lubchansky, and Olivia Stephens are added to the list, the full version of which sits below the cut. Thanks for the info, Alison!

Also yesterday, TopatoCon invitee Dante Shepherd¹ let us know that his second great creative work, one that's been under development for most of the past year, has launched:


Holy hark. I'm a Dad. Again.

Hey, world! Meet Torpedo! She's 6lb 7oz and she's utterly awesome.

My ChemE dept just sent out an announcement that the baby arrived. They announced that her name truly is "Torpedo". So that's delightful.

Torpedo, welcome to the world. It's kind of loud and noisy and bright right now, but that'll settle down soon enough. It's also kind of stupid and cruel at times, but I think that if you follow your dad's lead, it'll become less so; if everybody followed your dad's lead, it'd be cleared up before you're old enough to read this. In any event, it's the best world we have right now, and the only one we can offer you, so we'll try not to mess it up too bad before we turn it over to you.

Best of luck to you and your big sister Cannonball (senior henchman); she'll help you learn your way around the important things in life, like your dad's lab coat, his Red Sox cap, the junior faculty, and the chalkboard in the spooky basement. Remember not to eat the chalk, no matter how delicious it looks. Try to give your parents the occasional full night's sleep and they'll love you more than you ever thought possible.

Oh, and maybe give your dad a break at feeding time? He's not as tasty and nutritious as you might have hoped.

Torpedo and mother The Swede are reportedly doing well; best wishes to everybody at STW Headquarters.
---
Spam of the day:
It is no secret that a boost in confidence and having a positive self-image can contribute to a woman's over all well being but the majority of women do not have cosmetic surgery for anyone other than themselves.
Are … are you negging me?
_______________
¹ A pseudonym for mild-mannered professor of chemical engineering Bruce Wayne.

TopatoCon 2015 Exhibitor List
KC Green
Jeph Jacques
Jess Fink
Tom Siddell
Rosemary Mosco
Kate Leth
Anthony Clark
Christopher Hastings
Danielle Corsetto
David Malki !
Dante Shepherd
Becky Dreistadt & Frank Gibson
Michael Rapa
Mildred Louis
Sara Goetter
Jon Rosenberg
Karla Pacheco
RJ Lake
Spike
Allison Shabet
Lauren Jordan
Joshua AC Newman
Magnolia Porter
Alison Wilgus
Shoona Browning
Randy Millholland
Brian Lee
Skullmandible
David Willis
Kori Michele
Hannah McGill
Blue Delliquanti
Evan Dahm
Molly Ostertag
Aatmaja Pandya
Maki Naro
Matt Lubchansky
Olivia Stephens