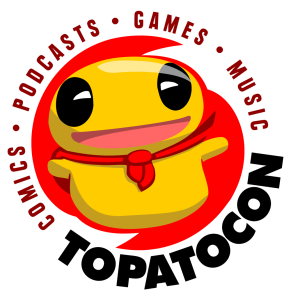 We'll do good news first, okay?
It's been a while since the last update to the TopatoCon exhibitor list, but what with applications being closed, we can add a series of new creators to the expected roster. You may recall that five weeks back the list sat at:

KC Green
Jeph Jacques
Jess Fink
Tom Siddell
Rosemary Mosco
Kate Leth
Anthony Clark
Christopher Hastings
Danielle Corsetto
David Malki !
Dante Shepherd

Judging from the various tweets that went out yesterday (predominantly from the creators themselves; TopatoCon has retweeted them, but hasn't provided a definitive list so far — probably because communications are still ongoing, and this is only for tabling creators, not presenters or podcasters or gamerunners), we may confidently add (in no particular order):

Becky Dreistadt & Frank Gibson
Michael Rapa
Mildred Louis
Sara Goetter
Jon Rosenberg
Karla Pacheco¹
RJ Lake
Spike
Allison Shabet
Lauren Jordan
Joshua AC Newman
Magnolia Porter
Alison Wilgus
Shoona Browning
Randy Millholland
Brian Lee
Skullmandible
David Willis
Kori Michele
Hannah McGill
Blue Delliquanti
Evan Dahm
Molly Ostertag

Thirty-four tables, thirty-five people if I've counted correctly. That's a bit more than half of the 70 exhibitor limit that Holly Rowland told us about two months back, and I've seen indications of four creators on the waitlist, with others undoubtedly out there. How many more webcomic-type creators we get, how many podcasters, game builders, and other creative types is presently unknown, but will hopefully be revealed in the near future. For now, it looks like the last weekend in September is gonna rule.

In other news, the first indication I had that things might be awry was a fairly direct tweet from the very sexy R Stevens:


Today only! My last regular comic on @medium : BATTLE OF THE OLDEST https://thenib.com/battle-of-the-oldest-21843559d267 …

I'd seen chatter in the infosphere about a change of focus at Medium, without specific indications how it would affect The Nib, and it appears that the effects are going to be significant:

Assistant editor Eleri Mai Harris was let go a few weeks ago, the first warning sign, and now the cartoonists who were syndicated on the site, such as Tom Tomorrow and Ruben Bolling, as indicating they they will not appear there any more.

It's been only three months since Nib editor Matt Bors was ramping up the talent pool, and honestly not that long since the whole thing started. Everybody that wondered how long the money would keep going out when Medium didn't seem to be making any, we may have our answer. We'll have to see what the next week or so brings, but it won't be the same excellent resource is was, dammit.
---
Spam of the day:
If you are to lazy to write unique articles everyday you should search in google for:
Yes, that's it — tell the guy that's written maybe 2500 articles over nine and a half years that's he's lazy. I'm sure to buy your product and/or service!
______________
¹ And may Glob have mercy on that place where a soul would be in a regular person.