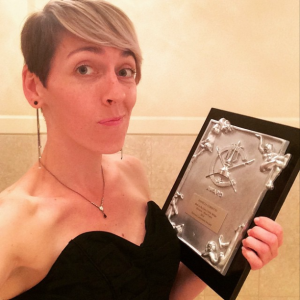 Since we spoke last, good news has come in from opposite sides of the country, and on this holiday (for those of you in the US, at least), I figured some good news would be just the thing.
Firstly, late Friday afternoon brought word that the Cartoon Art Museum has received a reprieve on their loss of location due to the kindness of their landlord (who have been working with CAM to resolve their rent issues longer than was generally known):


The Cartoon Art Museum is delighted to announce that their month-to-month tenancy at 655 Mission Street has been extended through September 2015. Their current landlord, Brad Bernheim of Coast Counties Property Management, and Matthew Cuevas of Cappa & Graham, Inc., a San Francisco event management company, made this extension possible.

… CAM's lease was up a few years ago, and it has been functioning on a month-to-month since then. "We knew that we could not sustain our location as the economy skyrocketed and have been looking for a more long term space for a while," says Executive Director, Summerlea Kashar.

"I was really touched when Cappa and Graham came to me with the offer to help extend our current term in our location, even just for a few months. For all of the businesses that feel like the economy and the landlords have been pricing us out, it was heartwarming to hear that Matt and Brad were willing to support us," remarked Kashar.

Good news indeed, and from the sounds of it the landlords have gone out of their way to support CAM; the press release noted that their lease actually elapsed several years ago, and they had been accommodated¹ on month-to-month basis since. Congratulations to CAM for getting three months more for keep their collections and programs in the public eye before being forced into what will hopefully be a brief hiatus.

Meanwhile, on Saturday night in Washington, DC, the National Cartoonists Society's 69th Annual Reuben Awards were given out, and while I wasn't able to be there, Brigid Alverson was on hand to let us know about the awards as they were given out. Most relevant to this page, I for once saw the two nominees I was rooting for take the division awards for Online Comics — Short Form and Online Comics — Long Form.

In the Short Form category, Danielle Corsetto won for Girls With Slingshots, and was on hand to receive the plaque. In the Long Form category, Minna Sundberg won for Stand Still, Stay Silent, and was in Finland instead of DC but that's okay.

I've mentioned my involvement in the NCS online comics division awards in the past; I'm not going to go into either the comics that were presented by the advisory committee to the jury for selection of the final three nominees, or which comics I specifically nominated, but I will say this: Sundberg and Corsetto didn't just win, they were selected to move onto the voting round against the best webcomics we could find, and then they captivated the electorate².

To put it another way: an organization with a significant percentage of its membership in the 80+ age range chose the short form webcomic based on a lesbian wedding storyline and a long form webcomic where a major plot point is the divergence of Scandinavian languages. I don't know about you, but to me that says that generational distance aside, cartoonists recognize great cartoonists.

Congratulations, Danielle Corsetto and Minna Sundberg — I can't wait to see what you each come up with tomorrow.
---
hi!,I love your writing so a lot! proportion we keep up a correspondence more about ykur post on AOL? I
This is probably going to sound terribly elitist of me, but I try not to have any correspondence on AOL.
_______________
¹ So to speak.
² Each nominee's work was represented by a selection of twelve strips — either sent along with their nomination paperwork, or compiled by a committee member that nominated them. I'll share that of the comics I placed in nomination, I did my best to end on a cliffhanger, and I'm confident that I caused some archive binges.