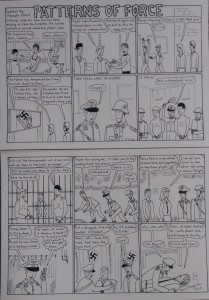 Briefly, as I promised: the original art from Planet of Hats episode #51, Patterns of Force, by David Morgan-Mar (PhD, LEGO®©™etc), shared with you now that the colo[u]red strip is up. Click to embiggen.
---
If my memory serves me right¹, this will be the fourth time that the Vancouver Comic Arts Festival has graced the jewel of the Pacific Northwest, and by all accounts it's getting better with each year that goes by.
The venue in Yaletown is open and inviting (and this year, VanCAF expands into two of the spaces, up from prior years), the guest and exhibitor lists are deep and varied, and attendance is free. We may have TCAF to thank for pioneering this kind of comics show, but VanCAF has quickly grown into its own unique thing. Congrats to the showrunners, the exhibitors, and the attendees, all of whom have collaborated to build the show up.
Speaking of guests, those of webcomicky nature that you'll find in Vancouver this weekend will include Matt Bors, Ed Brisson, Zac Gorman, Jeph Jacques, and David Malki !.
They'll be joined by exhibitors including Lucy Bellwood, Kory Bing, Boum, Jennie Breeden, Tony Cliff, Joey Comeau & Emily Horne², Blue Delliquanti, Jeff Ellis, Cat Farris, Christianne Goudreau, Hazel & Bell, Abby Howard, Amanda Lafrenais, Steve LeCouilliard, Sam Logan, Kel McDonald, Dylan Meconis, Angela Melick, and Erika Moen, Sfé Monster.
That's right, every exhibitor has a name that falls in the first half of that alphabet, nobody at all from the N-Z range.
Okay, fine — but if my fingers fall off after adding Maki Naro³, Gabrielle Ng, Karla Pacheco, Alina Pete, Doug Savage, Mackenzie Schubert, Katie & Steve Shanahan, Anise Shaw, Spencer Soares, Kat Verhoeven, and Alison Wilgus to the list, it's on your head.
Also please note some twenty hours of programming and , starting with a book launch on Friday night, and including discussions on the art of editing comics, the realm of all-ages comics, the realm of some-ages comics (the ones with butts and boobs and weiners), the art of self-promotion, and the sheer laugh-chuckles of competitive quick-draw improvisation. Also, for some reason, this atrocity, filled with the work of multiple terrible people; this one should be a hoot.
---
Spam of the day:
The company main business is further process the petrochemical production, with 8 production lines of ten-thousand-ton capacity for C9 and C10 separators, thermal & cold polymerization petroleum resin, petroleum naphthalene, tar and thousand-ton capacit
True story: my credit card company once called me up to ask if I'd placed an order for US$7000 of industrial solvents, to be delivered to somewhere in the middle of nowhere, Kansas. No, I replied, on account of I'm not a meth cook. That was what they figured, and I had a new credit card three days later. Presumably, that chemical supplier is the one that passed my contact info onto this one; at least the petrochemical industry is marginally less sleazy than the meth trade, so I'm attracting a somewhat better class of environmentally-destructive supplier these days.
______________
¹ Now I have the urge to bite into a pepper. Thanks for that, Chairman Kaga.
² Whose Kickstarter for the definitive collection of A Softer World is kicking loads of ass: nearly 500% of goal and twelve days yet to go.
³ Speaking of whom, Naro was one of two creators whose traffic growth data was shared by Hiveworks CEO Joseph Stillwell last night/today. I'm a sucker for this sort of information, and Stillwell is one of those people whose analysis you ignore at your peril.
The other creator, by the way, is Minna Sundberg, whose growth is hell of impressive. Sundberg, as a reminder, will be paying attention to the NCS Reubens gala in Washington DC this weekend, where she's up for the NCS Division Award for Online — Long Form.