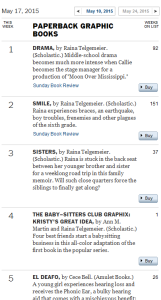 I believe that I am well on record that Raina Telgemeier is the most important person working in comics today, and if the industry wants to really grow they should be watching everything she does and emulating it. I thought she'd reached a pinnacle when she had three books on the New York Times Bestseller List, then specifically the top three slots on the list¹.
Pfft, old news.
As her publisher, Scholastic, noted via tweet earlier today, Telgemeier has added the first of the reissued-in-color Baby-Sitters Club books to the list, meaning she now owns the top four positions all by her lonesome².
I am through being astonished, and will no longer be surprised at anything Telgemeier manages to pull off.
If I remember a-right, the BSC books are being re-released at six month intervals, which should mean that we're never more than half a year from something new with Raina's name on the cover between now and her next original graphic novel in 2017. Could the entire four-book BSC stay on the list along with the other three? To be (inevitably) joined by that next OGN? Could we actually see between five and eight Raina Telgemeier titles hogging the NYTBSL, to the point where — in order to maintain any relevance — it's repurposed as a list of the best selling paperback graphic novels specifically not by Raina Telgemeier? No bets, my friends, no bets.
Fleen congratulates Telgemeier and reminds an industry that lurches spasmodically from line-wide-crossover-that-changes-everything to line-wide-crossover-that-re-changes-everything: this woman is single-handedly eating your lunch, half of your dinner, and is in the process of repossessing your coffee machine and all the good snacks. Adapt or die.
---
Reminder: Next week is my internet hiatus. I'll be back online and posting again on the 18th.
Spam of the day:
Yes! Finally something about Michael Kors.
Weirdly, although I have mentioned His Orangeness several times over Fleen's history, including once within the past two weeks, this particular spam was left on a post that didn't mention Kors at all. Feel free to insert a paraphrase of Kirk telling Khan that he keeps … missing … the target.
¹ Since then, the order has been shifting back and forth, but Smile, Drama, and Sisters have been holding strong.
² Rest of the list? Cece Bell (El Deafo), Victoria Jamieson (Roller Girl), G Willow Wilson (the second Ms Marvel collection), and Jillian Tamaki (Supermutant Magic Academy), all aimed squarely at girls. Only two books could be said to be "traditional" comics — the fourth Saga collection and a resurgence of the nearly 30 year old Dark Knight Returns, probably because they just announced Miller would be doing a second sequel. Figure it won't be off the list in a week.