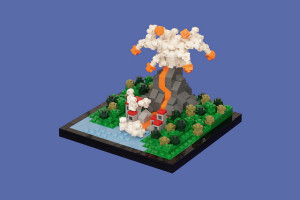 The layer of crud on my car and all outside surfaces is matched only by the layer of crud built up in my sinuses and upper lungs, thanks to every tree in the tristate area decided to have sex in public. I yearn for a half hour of gentle rain to wash the air, or at least a maelstrom of cleansing fire. Should I succumb to this sea of snot, avenge me.
I mentioned earlier in the week how much I love when creators share data, but that extends to more than numbers and business decisions; I'm a sucker for workplace tours, process videos, all the details of how the creative impulse gets channeled into making the abstract concrete.

But something I don't see as much is how general life habits can support (or undermine) creative careers; I recall the episode of Webcomics Weekly from last year wherein Brad Guigar¹ and Dave Kellett shared the secrets of cartooning with new babies in attendance to imminent first-time father Kris Straub.

And earlier this week, Meredith Gran did the same thing in written form, laying out how she approaches time and career management in general. I particularly liked a couple of her tips:

When it gets busy, lose everything you can before diet, exercise, and housekeeping. If you feel bad and your work/life space is dirty, you won't work well.
When your day seems impossible, it probably is. Lose one obligation and feel the cool wave of relief wash over you … ~*AHHHH*~
On exhausting days, make no promises. I never commit to intense work on a Thursday after class. I know I'll be cooked when I get home — why commit to a weekly sesh of disappointing myself?
Make time for breaks. Schedule them in and earn them. Maintain your friendships and leave the house. There is nothing cool and romantic about being "the busy guy".

Read the whole thing — whether you work for yourself or for others, make your own schedule or have to punch a clock, there's good advice here.

Speaking of working for somebody else, there's a job opening at Blind Ferret Enterprises for a Junior Affiliate Manager; some things that are not explicitly mentioned in the ad but probably should be:

BFE Supremo Ryan Sohmer harbo[u]rs delusions of Bond-level supervillainy; do not under any circumstances accept any work uniforms that consist of colo[u]r-coded jumpsuits with a "henchman ID number" embroidered on the chest, and if you hear him muttering The fools! They'll all see! for more than ten minutes a day, tender your resignation and seek a minimum safe distance¹.
Sohmer looks forward to weekly paintball matches with a ferocity that can be slightly intimidating, but don't be scared! He just wants you to enjoy a healthy, social time with others while building intra-company camaraderie. Rumo[u]rs that he is a lethal shot that scored five yellow capsules directly on the crotch of an intern who can now only walk with a 15° tilt to the left are probably unfounded, so join in the fun and don't forget your cup.
You may be required to help "Unca" Lar DeSouza into his Sailor Bacon outfit; if he offers to demonstrate his "moon magic", politely decline.
Do not touch the LEGO models if you value your life. Just … don't.

All kidding aside, the one thing that's not in the job listing that should be is that Ryan Sohmer has committed to paying decent wages to his employees and that's a sad exception to the comics and internet sectors of the economy. It may be hard work, but working for BFE will be a fun, weird, well-compensated kind of hard work, so check it out if you're near Montreal.
---
Spam of the day:
My spouse and I absolutely love your blog and fijd a lot of your post's to be just what I'm looking for.
Hey man, hey, keep me out of your sex games. That's between you and your spouse.
_______________
¹ Recommended: Saskatchewan.