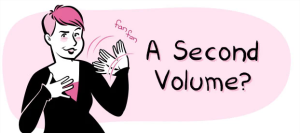 Because it was more or less a year ago (okay, a year less about 17 days) that Erika Moen and Matthew Nolan launched the Kickstart for the first volume of Oh Joy, Sex Toy, which (above and beyond its financial success) was notable for a couple of reasons:
Which is to say The Hurricane and Matt¹ are good 'uns, and their success well-earned.
And wouldn't you know it, it's time for a new, larger, second volume of OJST, with the campaign over here just past the one hour mark (and pushing 15% of goal) as I type this. From the project description, Moen & Nolan are plowing some of the money they made on the last book back into this book, so they're in the slightly precarious position that if they just make goal, they'll actually be out a chunk o' change, so let's not let that happen. They're running simple on this campaign, with essentially no stretch goals — simple means you get your Big Book of Happy Educational Smut faster, and they've already locked in those higher page rates thanks to last year's campaign. Plus you've got seventeen guest contributors, along with some brand new comics and essays.
---
Quick side note: Fleen will be going dark next week. There's a family wedding coming up with lots of events planned and while that will only be a couple of days, it occurred to me that I haven't been seriously offline in maybe 20 years (certainly not in the nearly 10 years I've been writing here) and I'm gonna do it. Oh, sure, I've taken time off before in exigent circumstances, but I was reachable; I intend to be as off-grid as I can manage this time around. Emails will pile up, comics will go unread, entire subcultures centered around Twitter shitfights will be born, rise to prominence, and fade away before I come back to you on the 18th. So if you've got something going on next week, now would be a good time to let me (that would be gary) know (at this website, known as fleen, which is a dot-com) 'cause come the weekend, I'm going cold turkey for a week.
Maybe. We'll see how the withdrawal symptoms are.
Spam of the day:
Changing your Facebook status from "In a relationship" to "Single" is a childish involving "sending a message" in the partner since got angry at your sweetheart. Even though this immature act is a lot more often done by girls involving anger from the moment, in order to make a little impact on you, really are millions some men that I've noticed attempt that too.
I'm not on Facebook so I have no idea what you're whining about, but I'm sure it's super important.
_______________
¹ That sounds sorta like a Saturday morning cartoon, doesn't it?