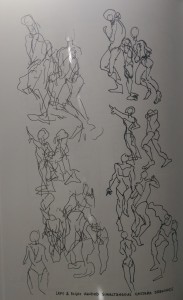 So applications for TopatoCon have closed, but they just opened for MICE, which is a show I keep hearing more and more good about. If you think you could arrange to be in Cambridge, MA¹ — across the river from the somewhat better-known Boston² — in the middle of October, this may be something you want to look into.
Yeah, I know — you're waiting until the overeager crowds have quieted down before seeing the new Avengers³, you already binged on Daredevil, and have no idea what to watch that's comics-themed this weekend. Might I recommend STRIPPED, which has joined Netflix and is now available for convenient in-home streaming?
So I got my copy of Cuttings in the mail yesterday, and it is expectedly gorgeous inside, but in and among the anticipated delights are some things that surprised me. One thing, however, surprised me more than anything else — more than the variety of styles and genres that Yuko Ota and Ananth Hirsh can work in, more than the amount of money I want to give them to see some of their as-yet-unrealized stories, more than the fact that when a wrist injury sidelined Ota's right hand, she started drawing her comics with her left and quickly achieved mastery with it.

And that thing is that Ota can not only draw better with her non-dominant hand than most people will ever draw period, but that there is a page included where she does gesture drawing with her right and left hands simultaneously. What the hell. You should buy all their stuff because anybody that can do that deserves your money.
---
Spam of the day:
Have you ever thought about creating an ebook or guest authoring on other sites? I have a blog based upon on the same topics you discuss and would love to have you share some stories/information.
You've linked to eyelash enhancers, and as I am widely reputed to have the best eyelashes in all of webcomics pseudojournalism, I don't see why I should lend you any of my hard-won credibility on the eyelash front.
_______________
¹ Our Fair City; requiscat in pace, Tommy.
² Don't worry about the show not being in Boston — it's not a big college town.
³ Alternately: you couldn't get a sitter.