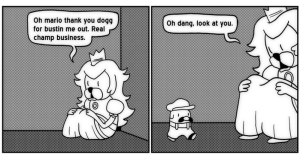 Everything. It is scientifically known that Roast Beef is the greatest character in all of fiction, and casting him (and Phillipe, and Ray) into [Super] Mario roles instantly makes all of videogames better. For a desolate world that has lacked fresh Achewood for more than a year¹, seeing these characters in pastiche is a pleasure. Thanks to KC Green and the Nintendo corporation for making this moment possible.
In other news, I am ready to murder everybody who cannot manage to engage their brains for five damn minutes to listen to my instructions, so let us all spend a moment waiting for Hobnail and Percacius to come up the lane to play.
_______________
¹ Not that Chris Onstad is my bitch; indeed, there is something profoundly appropriate about the eternal cycle of death and rebirth pausing on Ramses Luther Smuckles, the sands of his violence eternally being mercifully withheld from a milk-eyed son of a slack-tittied dog that deserved it. If there is never another Achewood, this moment stands perfect.