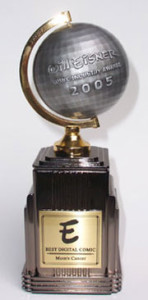 Welp, the Eisner Award nominations are out, and the thing that jumped out at me is how thoroughly web-/indy comics creators have entered the mainstream; they are competing head-to-head against some of the most revered creators of traditional publishers, and against some of the most well-known creations. Let's go down the list.
First and foremost would be Bandette, which aside from a nod in the Best Digital/Web Comic category (about which more in a bit), was also nominated for Best Continuing Series (going head to head against the likes of Saga and Hawkeye), and artist Colleen Coover's nomination for Best Painter/Multimedia Artist (interior art). Similarly, Emily Carroll's as-yet online-only When the Darkness Presses is up for Best Short Story against works featuring these obscure guys named "Bat-man" and "Su-per-man"; Carroll also took a nomination for Through the Woods as Best Graphic Album — Reprint. It happens a little more each year: an online work competes directly against print comics, and it's an encouraging trend.
The other multiple nominee I wanted to mention is Lumberjanes (newly ensconced on the New York Times bestseller list for their first collected edition, by the bye) for Best New Series and Best Publication for Teens (ages 13-17), with LJ co-writer Noelle Stevenson also nominated for Best Digital/Web Comic for Nimona. And since that's two of the webcomics nominees listed, let's continue and acknowledge the rest:
As in past years, the category is a bit of a mish-mash, with The Private Eye and Bandette being comic-booky where Failing Sky, Last Mechanical Monster, and Nimona release page-at-time; Bandette is sold via comiXology, the others release on their own websites. There's not much overlap between format or genre, with all five being united solely by dint of the fact they release online first. Maybe that's good, maybe that's bad, but it's still restricted to whatever the judges decide counts as long form work, and that maybe should be reconsidered. Regardless, all strong work in the category this year.
That being said, it wouldn't be the Eisners without a What the hell? moment or two, and for me that came when I noticed a complete lack of webcomics in the Best Humor Publication (where they are often represented) and a lack of both Sisters and Amulet in any of the younger readers categories. In the case of the former, it's hard to argue when you do get nominations for Cul de Sac and Groo; in the latter, Raina Telgemeier was nominated as Best Writer/Artist, which is arguably better. There are still people out there that regard works for younger readers as somehow lesser; that's a garbage argument, but to the extent that some perceive it as a ghetto, Telgemeier isn't being pigeonholed. She's competing against the best across the entire swathe of comics, including grand masters like Stan Sakai and Sergio Aragonés. Still nothing for Kazu Kibuishi, so I've got that to complain about.
But let us finish up on a happy note: Gene Luen Yang is up for Best Writer, both for his Avatar tie-in comic at Dark Horse, and his own The Shadow Hero, and the Tamaki cousins were recognized for This One Summer as Best Graphic Album — New; collectively they'll be facing competition including Jules Feiffer, Brian K Vaughn, Kelly Sue DeConnick, G Willow Wilson, and Grant Morrison. Webcomics creators (and webcomics veterans) aren't just being compared to each other, they're being compared to the best alive. It's a good year for the community.
The Eisner Awards will be given out Friday, 10 July, at San Diego Comic Con; best of luck to all the nominees.
---
Spam of the day:
1. Don't continue putting off your lifestyle change.
Let's see — wife, dog, house, volunteer work, and the opportunity to opinion-mong on a regular basis? My lifestyle's jammin', Sparky.