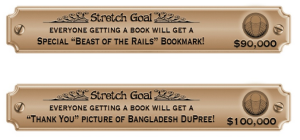 Answer: seven days of class material in five days. One may understand that I'll be somewhat … brief this week.
New TopatoCon announcement du jour: Dante Shepherd, imitator of raptors¹, wielder of mallets, teacher of the young, record-holder for chalk concentration in the blood of an alive human. Be sure to shout Woo, Yankees! when you see him.
New Kickstarter for Girl Genius went up in the wee hours, already sitting at 155% of its US$60,000 goal and less than US$250 from its last stretch goal. Good thing too, as it's only running for eleven days. Of perhaps equal interest is the fact that while this is the 14th (!) volume of Agatha Heterodyne's adventures, Pr & Pr Foglio have created a story break to serve as a jumping-on point and renumbered back down to one — the better to not scare off new readers, presumably. We'll see over the next few years if that worked in their favor but whatever — I cleared space on my bookshelves for up to 25 Girl Genius collections years ago.
It appears that the indications we had on Friday that the contact form isn't working have been borne out — Steve Troop dropped into the comments to let us know that he also had a no-result experience. It's on my list of things to do, but for the meantime I'll put a note on the contact page. Thanks for letting me know.
---
Spam of the day:
Woman of Alien [emphasis original]
I'm not sure what this one is getting at? Are they trying to sell me alien women? Or do the aliens — perhaps from Mars? — need women? Help me out here.
_______________
¹ Now we need to have a Science And YOU! presentation at TopatoCon, where Shepherd can share the stage with Randall Munroe, who has a well-known fear of raptors; put Munroe on a treadmill with Shepherd hissing behind him, we can power the entire venue.
TopatoCon 2015 Exhibitor List:
KC Green
Jeph Jacques
Jess Fink
Tom Siddell
Rosemary Mosco
Kate Leth
Anthony Clark
Christopher Hastings
Danielle Corsetto
David Malki !
Dante Shepherd