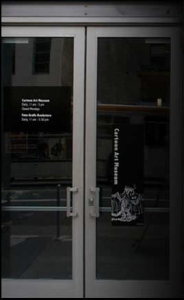 It appears that come June, the Cartoon Art Museum in San Francisco will have to go vagabond for while, as it is being forced by circumstance to find a new location:
Following a notice to vacate, the Cartoon Art Museum will be closing its doors at 655 Mission Street on Sunday, June 28, 2015. The museum, which recently celebrated its 30th anniversary, began preparing several months ago for a possible relocation and will now continue those efforts in search of temporary gallery space as well as a new long-term home.
Well, poop. For those that haven't had the pleasure, CAM is a great museum that puts up some great shows, and I imagine that at least half the effort of finding new space will be to find an appropriate place to keep and protect their collection — from the Smithsonian on down to the smallest, museums have more in storage than on display.
This has the unfortunate effect of making museum spaces expensive, what with requiring specific climate parameters to keep the collection from damage plus requiring nice, spacious, well-lit, and transformable space for all the public aspects. And San Francisco is one of the most expensive real estate markets in the country, which likely contributed to the requirement to move; no doubt their landlord can make a boatload of money by chopping up the space into fancy retail, restaurant, and/or residential units.
So if anybody wins the lottery and doesn't have anything better to do with a couple-ten million dollars (or even just a couple of bucks), you can contribute to CAM's capital campaign.
In better news:
---
Spam of the day:
Helklo there, You have done an incredible job. I'll certainly digg it and personally suggest too my friends.
Honest question: is Digg still a thing? I'm not sure it's a thing.
TopatoCon 2015 Exhibitor List:
KC Green
Jeph Jacques
Jess Fink
Tom Siddell
Rosemary Mosco
Kate Leth
Anthony Clark
Christopher Hastings
Danielle Corsetto
David Malki !