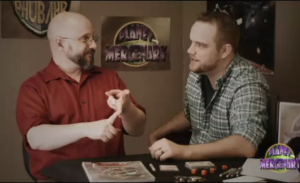 Just yesterday I was raving about the gallery/event space known as Center 548, site of this year's MoCCA Festival in Chelsea, Manhattan, New York City, and how I hoped the Society of Illustrators had found a new, permanent home for the show. Turns out, nope:
Sad news for anybody who is currently enjoying MoCCA's new location https://news.artnet.com/art-world/owne…
In case you didn't click that link, the owners of the building has sold out to a new landlord who intends to — wait for it — build condos, or so say the rumors. I'm sure somebody will be making a buttload of money off the deal, and while I've only ever been in that space on one day of its entire existence, the continual repurposing of NYC real estate into high-priced residences is something that will set off another cycle of decline in the city if the real estate industry isn't very careful.
It's happened before, as the city became too expensive and people moved away; pretty soon there's nobody to cook and clean for the owners of those multi-million dollar residences, or to make their coffee or deliver their dry cleaning. Then the super rich all decide to leave, the neighborhood falls into underuse, and then the artists and squatters move back in. Cue one of those Disney songs about eternal circles of real property valuation. Thanks to Darryl Ayo for digging up the story.
Welp, regardless of what happens with arts happenings in New York, there's still going to be a TopatoCon in *hampton Mass this fall, and the exhibitor list grows by the day:


Can you guess who the next guest announcement is? I'll give you a hint; his name rhymes with "Schmanthony Slark".

I'm going to throw another guest announcement at you. Go long!

IT'S CHRIS HASTINGS! @drhastings IS GOING TO BE AT TOPATOCON!!

The complete list as it now stands is under the cut.

That's moving fast — Howard Tayler¹ has been making noise about launching a Kickstarter to fund a role-playing game set in his comic's universe, and in the hours since launch it's racked up 66% of of a US$45,000 goal. Not so unusual, but these things are unusual: the US$30K he's gathered so far is from just 300 backers, for an average of a hundo per; he's logged eight backers (out of total limit of 15) across two US$500 tiers, and five (out of a limit of 10) backers at the US$1000 (!) tier. People love them some games, but even more love them some Howard. No idea where this is going but I suspect all my predictive models would be garbage given the obvious skew going on.
How about a simple Kickstarter story? It's been a while since we had one of thems. Dave Kellett has decided to celebrate the first anniversary of his film, STRIPPED (funded via Kickstarts), with a sale. Until 17 April, you can get the movie and bonus features for 50% off. If you didn't see it before, see it now.
---
Spam of the day:
Does your website have a contact page? I'm having a tough time locating it but, I'd like to send yyou an e-mail.
Yeah, it would be that thing under the masthead on the right that says CONTACT US, can't imagine how anybody's ever found it ever.
_______________
¹ Evil twin, etc.
TopatoCon 2015 Exhibitor List:
KC Green
Jeph Jacques
Jess Fink
Tom Siddell
Rosemary Mosco
Kate Leth
Anthony Clark
Christopher Hastings